I think these are my three least favorite FWQAL blocks thus far, at least of the ones I've completed. Well, no, Wrench from Week 3 is my least favorite, but I'm not a huge fan of any of these. Also, I hope that our porch gets finished soon (starting week three without railings…) so that I can get some good photos of all of them together soon. This phone-camera-in-the-house thing isn't working for me.

#11 — Broken Dishes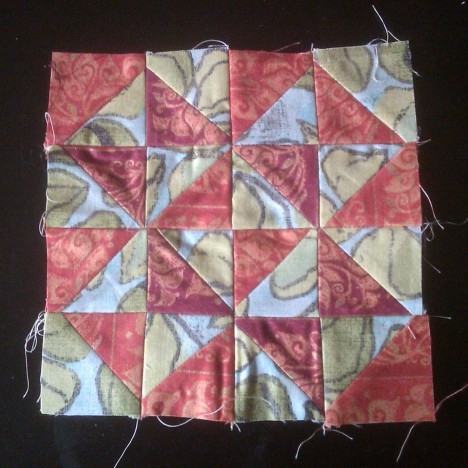 Simplify the block
Each quadrant is the same composition of four 1.5″ finished, 2 3⁄8″ cut HST units. Four quadrants = one finished block.
#103 — Whirlwind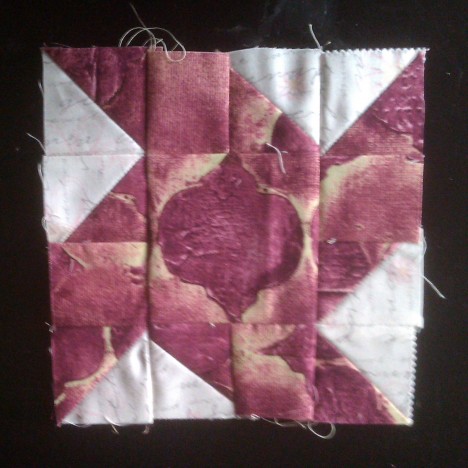 This is a very uninspiring photo of my favorite block of the three. The light areas are a Sunkissed print with words in gray and pink flower outlines. My block is a mirror of the one in the book, as I pieced the small squares to their HST partners backward and didn't want to rip and re-piece them all.
Simplify the block
This is quick to piece if you pair up the smaller (1.5″ finishing) pieces.
Make the eight HST units (2 3⁄8″ cuts), then sew two pairs together. Attach the four small squares (2″ cut) to the remaining four HSTs (pay attention to the directions, lest you make my mistake). Then it is simple to pair up those pairs and piece the block, including the larger 3.5″ center square.
#109 — Windows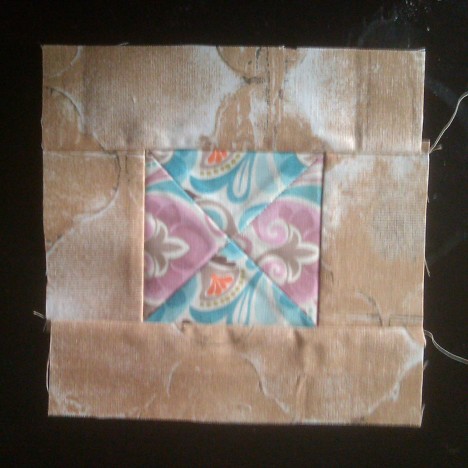 I'm not entirely happy with the contrast of the outer pieces with the center QST. It is slightly better in person, but I think it will be lost when everything is put together.
Simplify the block
This is extremely easy with the four rectangles and a center QST.
To make the QST, cut two 4.25″ squares (one of each fabric).
Mark the diagonal middle, then sew ¼" away from each side (like you would make HSTs).
Cut them in half down the middle line and press open. Then, cut both down the middle again, perpendicular to the seam line, and sew a piece of each together down that new cut. This will actually give you two QSTs, but I prefer to do it this way rather than using the templates. You can use the leftovers for something else.
What is this all about?
A group of quilters are working their way through The Farmer's Wife Sampler Quilt by Laurie Aaron Hird, trying to complete two blocks a week and posting them all to the group Flickr pool.
Check out our progress:

You can see all of my progress on my Farmer's Wife Quilt page.