Although the deadline is seven months out, I've started researching for the 1812 Challenge Quilt. I've been doing what I can online, for now, with plans to hit the library soon.
This is an odd size to think about designing for. Most of the extant period quilts are square or counterpane-sized, some even almost-T-shaped to accommodate four-post beds. "Cot-to-coffin," is a stretched rectangle of a size and aspect ratio you don't often see in extant designs or in modern quilting.

The Great Lakes Seaway Trail just published a blog post about why they chose the 30″ × 70″ size for the challenge. They discuss the correlation to Civil War cot-to-coffin quilts (and assumptions based on those), encouraging involvement with a smaller-sized project, working within the limitations of their exhibition space, and potential post-show uses.
I'm approaching mine with the idea of crib-to-coffin. I am picturing a smaller quilt—perhaps 30″ square—made around the birth of the soldier (lets say 1795, around the time of the creation of the 15-star flag, which still flew during the War of 1812) with a patriotic, we're-still-a-new-country mindset. When he was 17 or 18 and heading off to war, the quilt was extended to the full 70″ and sent off with him while he fought to protect our young nation.
I've been enjoying looking for extant quilts from the period to see what fabrics were used, how things were quilted, and what designs were popular. The Seaway Trail has quoted Barbara Brackman as saying that whole-cloth, broderie parse, medallion, and strip quilts were common. Patchwork was less so, although four- and nine-patch blocks, stars, and simple blocks made with half-square or quarter-square triangles are seen, often integrated into the medallion and strip quilt construction.
One of my favorites is this medallion quilt from the collection of the American Folk Art Museum. Around the John Hewston-printed center medallion are uneven nine-patches and stars (most often called the Ohio Star block in modern times) mixed with large squares of fabric. It has two borders, likely cut from fabric specifically printed with that intention.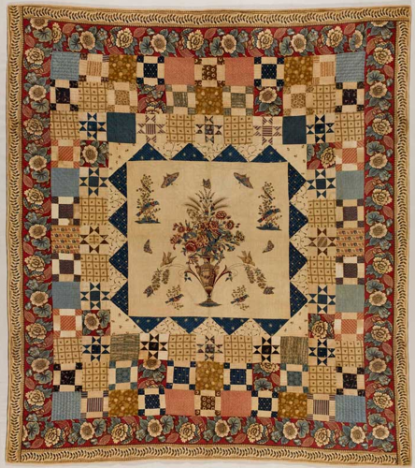 This quilt is a good guideline for typical fabrics of the period. Center medallions and chintzes could be very colorful. The expensive ones would have many colors, although simple medallions or ones commemorating a person or event might only have one or two colors. All other printed fabrics would have simple repeated patterns, often in just two, maybe three colors, like you see in the rest of the fabrics in this quilt. But with the range of colors available, the quilts needn't be dull.
One of the main things I'm struggling with now is my aesthetic desire to have a muted, triadic color scheme (red-blue-beige), which conflicts with my educating drive telling me that I should show that not all late-18th / early-19th century quilts were muted, dull, monochromatic creations.
But, while I wrestle with my design decisions, here are some resources:
The Quilt Index provides detailed information about many quilts in various collections. It is a great resource for looking at extant quilts. The link above takes you to a filtered result set of quilts from 1785–1812 (note that you'll see some later quilts—their filtering isn't exactly precise). You can also see just the medallion quilts from that time The strength of this resource is its extremely detailed records. Most include information about the fiber content of not only the top, but backing, binding type and even batting when it can be determined. Check out all the available info for this other Hewston medallion quilt.
Here is a great striped chintz quilt from the Michigan State University Museum. It's made of English Chintzes and is very colorful.
The Victoria & Albert Museum in the UK has a great online collection of quilts from the past three hundred years. The quilts are mostly English, but they are a good resource for seeing what fabrics would have been available at the time. The American quilter likely wouldn't have time for something this intricate, but here is a wonderful patchwork quilt from 1797.
Here is a medallion quilt made of hourglass blocks from the Art Institute of Chicago's collection.
Another medallion and hourglass blocks quilt, this one in the Winterthur Digital Collection.
From the little research I've done, many of the Civil War prints will work just fine for this quilt as well, but here are some collections and fabrics that are pre-War of 1812(ish). Not all are necessarily recent, so you may have to go looking.
This is by no means exhaustive, it's simply what I've come across so far.
Are you making an 1812 quilt? I'd love for you to share resources in the comments (or link to blog posts).