The recent spate of flying geese quilts in quilty blogland (and the various social media outlets) has me both charmed and inspired. I've made a few flying geese units for various sampler blocks, but never a full flock of them.
The Question(s)
For my next project, I want to use a charm pack for the goose part of the blocks, so how many geese can I get out of a charm pack, how much extra fabric do I need for the sky (outer triangles), and what is the resulting block size?
The Answer
One standard charm pack (42 5″ squares) and 1 yard of standard quilting cotton cut into 168 2 3⁄4″ squares (four per charm square) makes 168 1 7⁄8″×3 3⁄4″ geese using my preferred method of no-waste geese.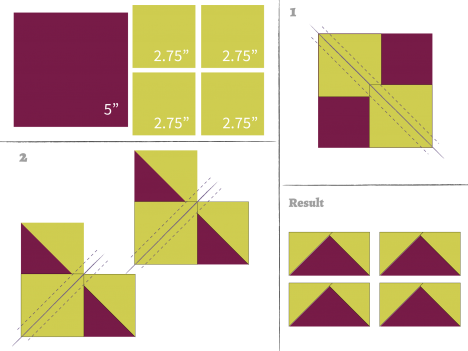 If you sew all 168 geese into 8 columns of 21 geese, you'll have a 30″×~39″ quilt—still a bit small for anything but a wall quilt, but by adding on borders or making alternate blocks and you can easily grow it to a baby quilt or larger.
Mine are going to fly in a larger sky of white space for a quilt measuring 60″×70″. Time to get started on those 168 geese!