I really can't turn down any idea that brews in my brain involving Parson Gray fabric. When Carl mentioned that a friend was planning on decorating her baby's room in blues and browns, I knew I had the perfect excuse to buy a few half yards of Seven Wonders.
Enter Disappearing Seven Wonders.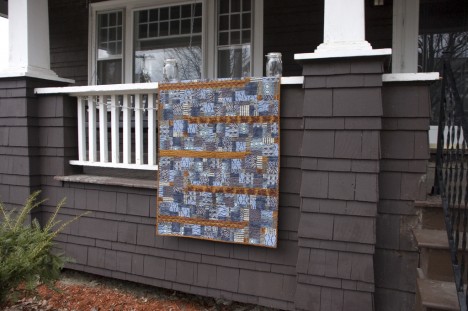 I put together two sizes of disappearing nine patches—10″ and 8″—bisected by 2″ strips. It went together rather quickly on the retreat I went to in February.
Being a baby quilt, I backed it with a Minky-style fabric of blue and brown stripes. Because the background is white, the result was a less-than-opaque backing, so I threw an 80/20 blend batting in between (I think it is Pellon Nature's Blend, but it was a scrap from something else, so I'm not positive).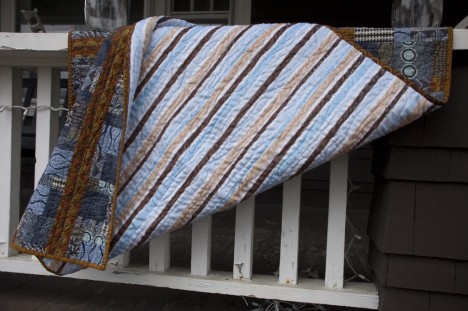 The quilting is an all-over wave-like pattern in a blue/white variegated thread (technically meant for denim).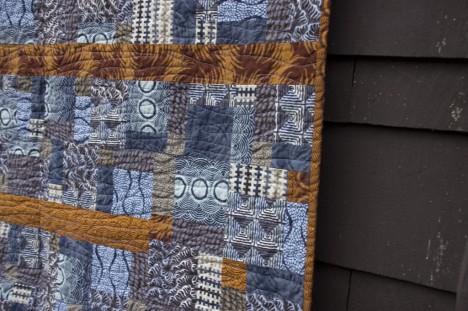 It crinkled up nicely, even with the bit of poly in the batting and backing.
Topping it off is a new label. I'm planning on telling you more about that later this week.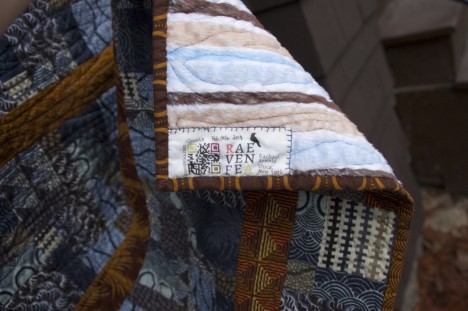 Now to pop it in the mail! I'm a few weeks late, but I doubt the new baby boy will mind. That's finish number two for the year. Time to get back to some WIPs.