After watching Superior Threads' videos on using fusible thread for applique, I was determined to try it out for myself. In fact, I rushed to the store and bought the only fusible available: Gütermann's polyester/nylon blended fusible. It was perfect timing, considering I was just starting the Kaleidoscope/Tula quilt, which has a lot of applique on a large scale.

How to use
From what I've read, fusible thread runs best in the bobbin, so that is how I've been using it. You can run it through the needle, but you'll want to lower your top tension and use a larger top-stitching/metallic/embroidery-style needle with the larger eye.
Superior suggests using an invisible thread or a thin polyester thread in the needle so that you can pull the top thread out once the fabric is fused. I don't think that the Gütermann thread melts quite completely enough for that to work—at least, it didn't when I attempted it. If it does work, you could use a blanket stitch or any other type of machine applique. Instead, I've been using a matching thread for the fabric and satin-stitching over it.
First, sew the edge of your shape using the fusible in the bobbin. I've found that the tension isn't always quite right (and haven't wanted to test much), so a few snips of the top and bottom threads around the edge will allow you to smooth out any gathering.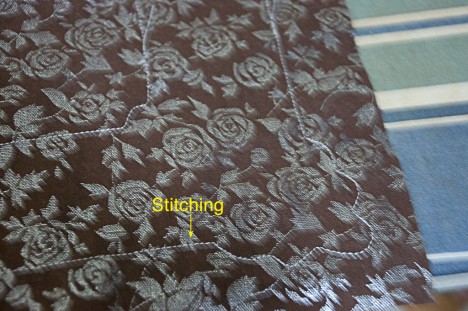 Then, cut out the shape out as close to your stitching as possible.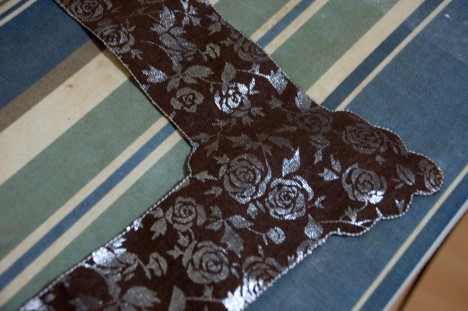 Next, lay your applique on your background fabric and press, using the appropriate heat setting for your fabric (in other words, this may not work well on synthetic fabric, as you can't press hot enough to melt the thread without risking melting the fabric also).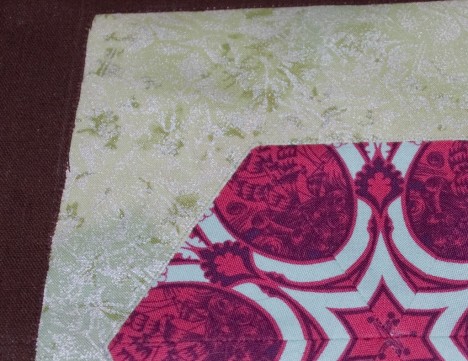 Finally, stitch around your applique to securely attach it to the background. Here, I've used a satin stitch.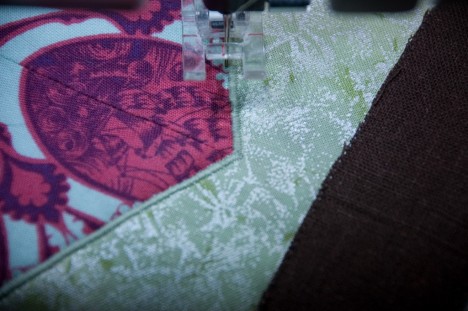 Why thread instead of something like Steam-a-Seam?
As with any technique or style, there's more than one way of accomplishing something. The advantage of using fusible thread over a fusible web is that there is no additional layer added to your fabric. This results in a much more pliable/soft applique. Since I've only found fusible webs in prepackaged sheets approximately the size of a sheet of paper, this allows for much larger applique pieces (although I know that larger by-the-yard cuts are available).
Polyester-blend or nylon?
Since I've only used poly-blend, I can't make a conclusive statement, however I suspect that nylon fusible thread would be far better. Nylon has a lower melting point than polyester, so nylon will fuse more quickly and easily than poly or poly-blend. How many times have you heard not to use nylon invisible thread, as it will melt if you iron it? Exactly.
Superior Threads' fusible is the only one I know of that is 100% nylon. YLI Fusible Thread is nylon wrapped over a higher melting-point core (they won't say what). And Gütermann is a poly/nylon blend.
Side note: did you know that "polyamide" is another word for nylon? Gütermann's is labeled "Polyester/Polyamide", not poly/nylon.
Do you use fusible thread for applique? What thoughts do you have about it?