I had hoped to be further along with my dress by now (that is, started), so that this giveaway could tie into notes about making the dress. However, I want to make sure that you have time to make your own dress for the show or whatever events you wish it for. So, without further ado, this is a giveaway! Of Simplicity's licensed Sense and Sensibility Regency Gown—perfect for 1812 Bicentennial celebrations!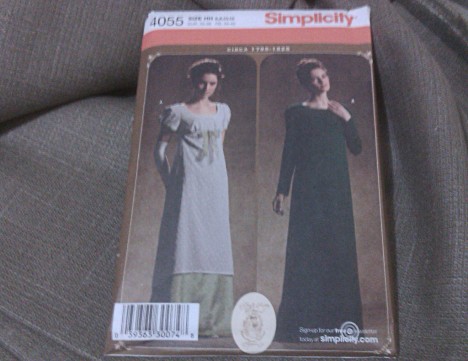 Specifically, this is the size HH (6-8-10-12) pattern, so you need measurements smaller than 34-26-36 according to the package, although considering the modern ease added, you may be able to get away with using the size 12 even if you are closer to 36-28-38 (what they consider size 14), and if you're really adventurous, you can try to scale the pattern up.

To enter, simply comment on this post. There's only one entry per person, so duplicates will be ignored. North America only this time, sorry my (non-Canadian/Mexican) international friends. Make sure to enter by 11pm EST on Tuesday, January 31, because I'll be drawing a winner then. The winner will be announced February 1.
If you don't win or want to buy the larger size, there's still plenty of time to pick it up at your favorite store or online (Simplicity Sewing Pattern 4055). Watch for 99¢ or 5 for $5 sales. If you can't get it on sale, you might want to consider the original Sense and Sensibility 1804 – 1812 Regency Gown pattern, which doesn't have modern ease built in, and comes with historical notes, for about the same price as a full-price Simplicity pattern.
If you do make it, consider finding patterns for the proper underthings—modern bras don't give that Regency lift-and-separate/shelf silhouette.
Are you making a Regency gown this spring? What for? What fabrics are you using?
This pattern was acquired with my own resources. The giveaway is in no way associated with Simplicity Patterns or Sense and Sensibility patterns. Est. retail value: $1.