I thought things would calm down after I finished all the Christmas presents I made, but I was mistaken. Between house renovations/organizing, freelance work, 9–5 work, and whatnot, I haven't made any progress on the 1812 fashion pieces. What I have done is buy an extremely important part of the outfit: a shawl. From Target.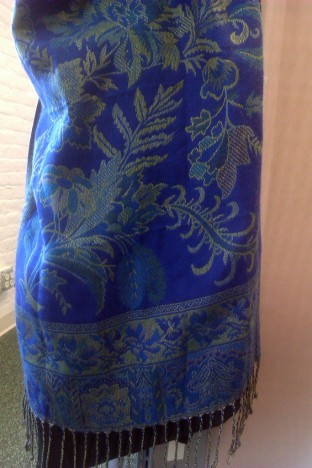 Okay, really I bought it because I love the one I bought two years ago, but it has seen better days thanks to constant use. It is great to wrap around myself in the cold office conference room, and quite warm during winter. But it had colors that were definitely not possible in 1812. This new one can easily do double duty for the show. Is it 100% accurate? Not at all, but it is a nice modern piece that takes its design from the past at a price under $20. Someday, if I do more Regency-era things, I may try to find something more appropriate, but I think this is a good start.
So, if you're looking for something reasonable that you can wear for the show and every day, check out Target's shawls… they'll probably be leaving shelves soon. Mine has been pretty picked over, but there were a few plain ones and two or three patterns that are historical-ish.
Speaking of good starts, I finished the piecing of the top section of my quilt, and am 95% done with the middle section (I'm trying to decide how to quilt the border directly around the medallion). I hand quilted the medallion, but the rest is machine quilted. Wool batting is… interesting to use.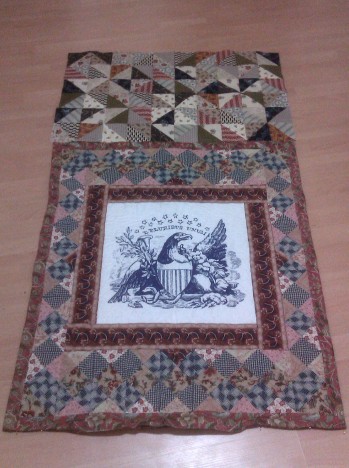 I understand now about "humility blocks". I know that they are a myth, but saying that "I'm respecting a higher power by not trying to be perfect" sounds so much nicer than "I really didn't want to pull out the seam ripper when I accidentally pieced the sections together the wrong way", doesn't it? Luckily, I was going for scrappy anyway, but I wanted a few of those HSTs to be oriented a bit differently.
I'd say I'm well over 50% done now. I've pieced the HSTs for the bottom but need to sew them together, then quilt those two sections, attach them all together, and do the last bit of quilting for the center. This may be the last update I let you see until the show, but then again, you know I love to share, so probably not.
Are you making an 1812 quilt? How's yours going?