I'm convinced that my belongings grew in the move. I don't know how, but things just weren't fitting in the same amount of shelving as I had at the apartment. And, I'm still not completely unpacked!
A quick trip to Target last night for cabinets/shelving and a few hours this morning, and I finally have something that is starting to look like a sewing studio: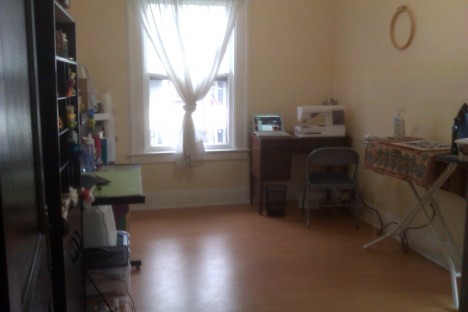 All my storage and cutting essentials are along one wall: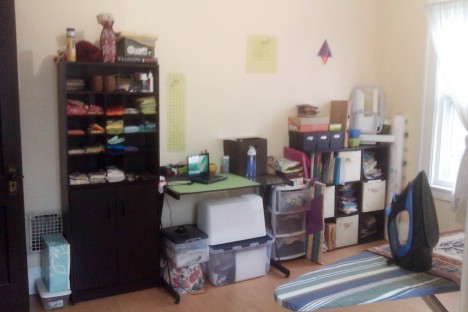 I need to get some hooks and such to hang things on. The rulers are all just hanging from nails that were already in the walls when we moved in. And, after seven years, a Windows machine has finally made its way into my life again (on the cutting table)—I need it for the embroidery programs (okay, yes, I could dual boot my decrepit Macbook, but having a small portable thing for classes will be handy…).
My favorite part is the pretty stash organization: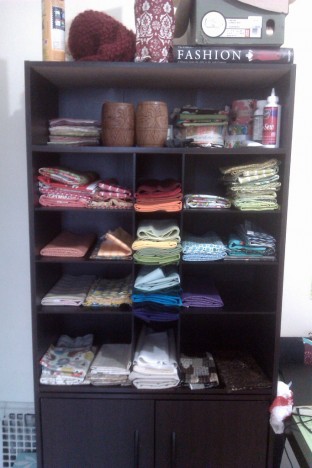 Solids in the middle, patterns surrounding, all by color, with some precuts and tools above. That's about 70% of my quilting stash—most of the yard-or-less bits. There is some yardage in the cabinet below, and I haven't finished organizing a chunk of what is in the other bookcase. See, for a quilter, that is a tiny stash, right? I can totally go buy more, right?
There's still a ways to go. I want to turn the wall where my ironing board is into a design wall. I have an empty corner that is begging for a comfy chair to sit in while I do handwork next to the second window in the room: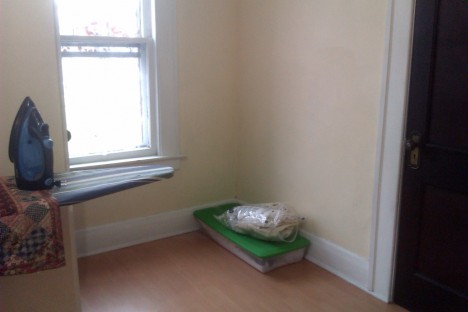 I would love to have a real sewing machine table. Right now, it sits on the cabinet for a 1976 Singer Touch and Sew (the machine is still in there, but needs rotted gears replaced (I even have the replacement parts)… if you know someone who might be interested and willing to haul it from Utica, let me know…), purely for lack of anything better. For now, at least.
Now, I am trying to finish two quilts for two different show submissions by the end of February (my first submissions!), so I bet this clean state won't last too long!
What do you use as a sewing studio? Do you have a room? What does your dream studio look like?