I wish I'd learned about this before our trip to MO, because we could have swung through Chicago, but for those of you who can get to Chicago before April 16, 2012, there is a fabulous exhibition of couture fashion by Charles James at the Chicago History Museum.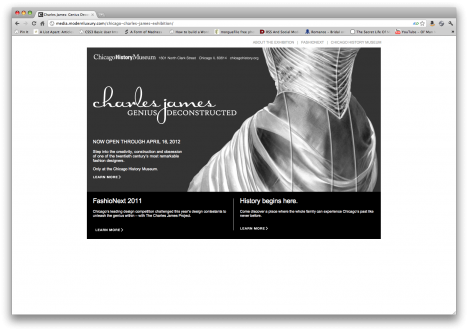 Now, while I love looking at designer clothing, gowns alone won't usually inspire me to want to trek halfway across the country for an exhibit, but this is more than just a show of his designs. The curating team used advanced imaging techniques and intense study of the construction of three iconic dresses in order to show visitors how the gowns are structured—and James' designs are often very complex in structure. There are also touchable displays—the team painstakingly created prototypes of different aspects of the construction.

So, while I won't make it, maybe you can. Tell me all about it, if you do!
If you're interested in Charles James in general, there is a catalogue available from the Museum's shop, as well as a (unrelated to the exhibit) book published in 2006: Charles James (Fashion Memoire).
His dresses also appear in many fashion books, including High Style: Masterworks from the Brooklyn Museum Costume Collection at The Metropolitan Museum of Art and 100 Dresses: The Costume Institute / The Metropolitan Museum of Art.