The bi-weekly So You Want To Quilt group is starting up with a new project this month: a quilt based on the Stack-n-Whack kaleidoscope technique (there are a few books about it, like Stack-n-Whackipedia). Our teacher is designing a wall hanging that we can make, but seeing as I'm more of a quilt gal myself—and lack any restraint to keep things simple lately—I'm making my own design (more on that in coming weeks).

You can do countless things with this technique, often turning fabric that may not be to your taste into a wonderful quilt. I'm starting with a fabric that I love, though, which means this quilt must turn out even better than wonderful. Marvelous. Glorious. Sublime. See, my plan started with the yard of Tula Pink's Parisville Cameo that I couldn't keep myself from buying when Melanie closed up Above All Fabric (no really, I only intended to buy backing fabric for another project, and ended up with 10.5 yds of various things in the order).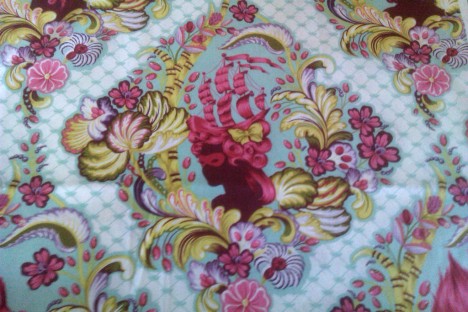 I'm not using it as my kaleidoscope fabric, however, since the repeat is so large 1yd isn't enough, plus it is perfect just the way it is. Which meant more shopping, giving me all this: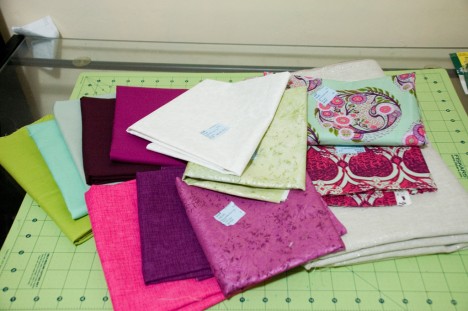 (And some more, since I had to audition solids.) The two prints that I am making kaleidoscope blocks out of (including a quick Photoshop render of possible kaleidoscopes) are also from Parisville: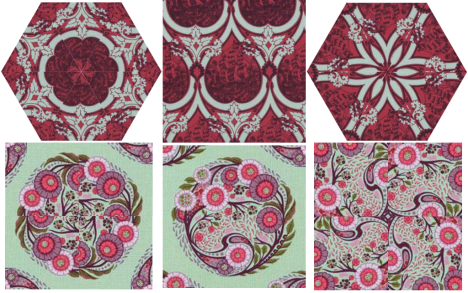 To top off the standard quilter's cotton, I found this fabulous Linen/Rayon blend with silver threads interwoven to use as the background fabric for the quilt, and a great brown linen that is solid on one side, and has silvery flowers on the other to use as frames. Here is my first (almost) completed block:
I still have to do the actual applique stitches, but everything is fused together. Have you ever used fusible thread? I made the mistake of spending a lunch hour watching Superior Threads' videos about it (Charlotte's Fusible Web), and since I didn't want to wait for a shipment, ran to JoAnn to grab the only fusible they have (Güttermann). I want to try another brand, as I don't think Güttermann's melts as well as a good one should, but I am a convert. It is awesome. I'll tell you more about it as I work on more blocks for this quilt.
This will finish at 8×12″, paired with nine others of varying sizes for a 50×60″ quilt. Yes, I know there are no kaleidoscopes in that block. Just stay tuned…
Have you done a Stack-n-Whack quilt?