The Museum of the City of New York has an absolutely wonderful exhibit online at the moment: Worth & Mainbocher, featuring photos and information on many garments by these two master couture houses.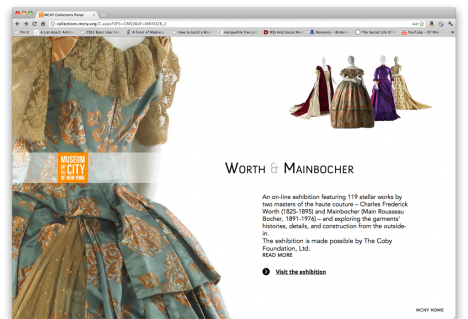 It's a dangerous time-sink, with the ability to do some very super zooming on many of the garments—you can really see the details. Some even include shots of the interior. I love it. The interface is a bit clunky and slow otherwise, but don't let that deter you.
I have no doubt that if you've seen a Worth gown (I'm not as familiar with Mainbocher), you've wanted to see how it was constructed—this gives you the opportunity to get up close. They even have the famous "Electric Light" fancy dress gown worn by Mrs. Vanderbilt II (complete with photos of the inner bodice).
So really, just get over there already.