I did a demo for VTMQG last week comparing different types of batting I've used. I volunteered for purely selfish reasons—I needed to clean out and organize my scraps, and also take stock of which ones I like, and which I might not care to buy again in the future.
The demo was very hands on and doesn't translate well to the web, but here's what I found.
The Process
I created three quilt sandwiches of each batting (large enough to cut down to 9″). I used fabric from the same manufacturer to try to keep things consistent, but used a different design for each for ease of visual comparison. The back is a solid. I quilted one of each set with a rough 1.5″-2″ grid, another with feathers and pebbles, and and the third with both.
I trimmed them all down, then overcast stitched the edges of the gridded and feathered squares to keep them from fraying in the wash.
Then, I washed the two overcasted blocks from each set (basic cotton wash, normal dry) to see how they ended up compared to the unwashed third block.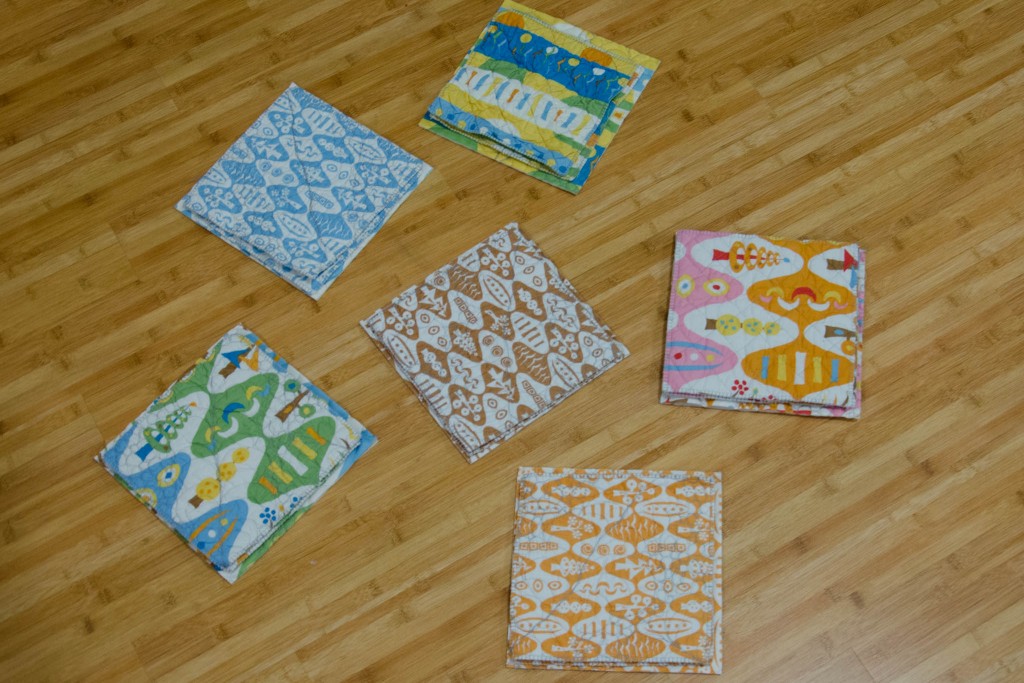 The Results
Batting choices can be very dependent on the project type, and this is certainly not an exhaustive list. I imagine different brands react differently even with the same fiber content. But, knowing how the batting will react to quilting and washing is helpful in making that choice.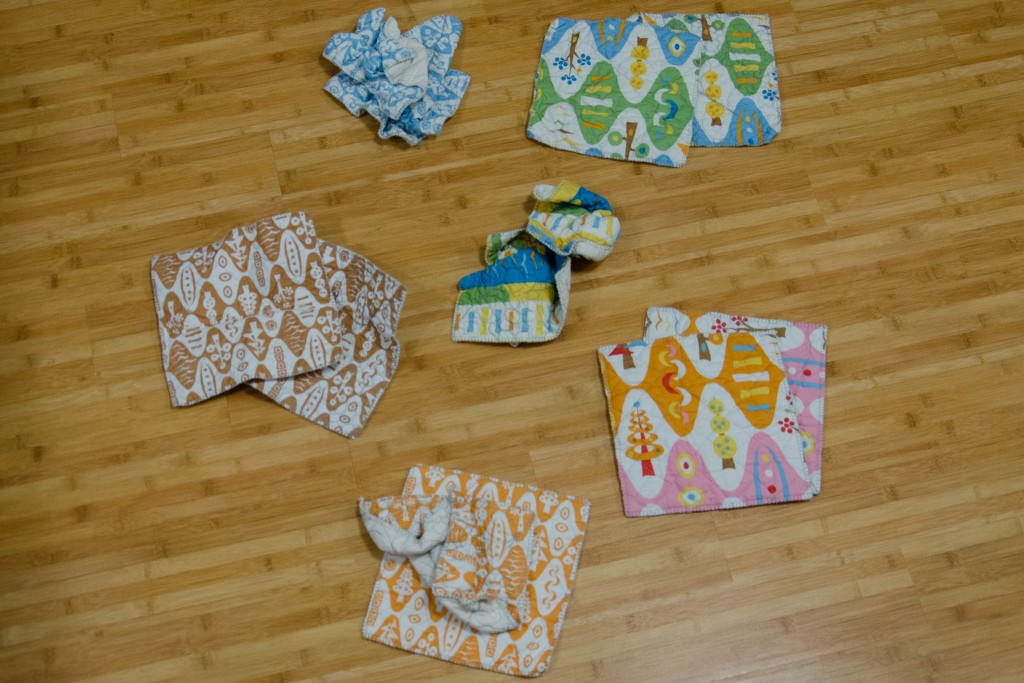 Batting Comparison Chart
Fiber
Demo Brand
Shrink*
Loft
Max Gap
Binder
*according to the manufacturer
Wool
Hobbs Tuscany Collection
minor
medium
4″
resin
Polyester
Soft n' Crafty Extra Loft
minor
high
2″-4″
resin
50/50 Bamboo/Cotton
Nature-fil
major
low
8″
resin
70/30 Cotton/Poly
Pellon Eco Cotton
minor
low-med
8″-10″
scrim
80/20 Cotton/Poly
Soft n' Crafty 80/20
medium
low
2″-4″
scrim
Cotton
Warm & Natural
medium
low
10″
scrim
The least affected by washing and drying was the 100% poly. However, it was not much fun to quilt, and the loft is higher than I personally like.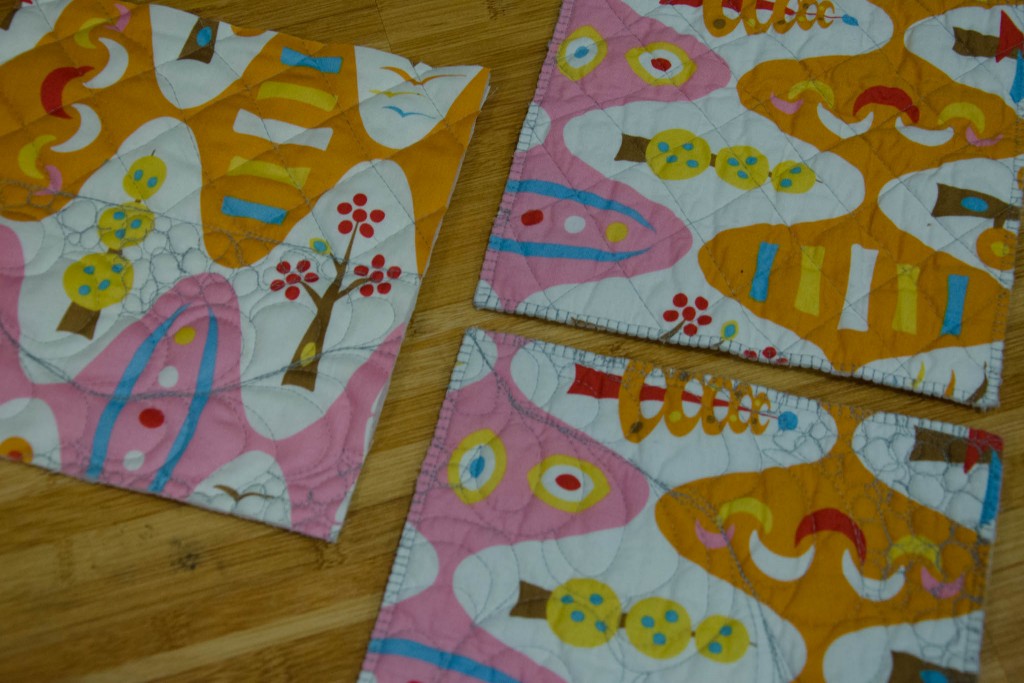 The most affected by washing and drying was the 50/50 Bamboo/Cotton. There was an extreme amount of shrinkage. A different wash type might reduce that, but be forewarned. It is gorgeous before washing, though.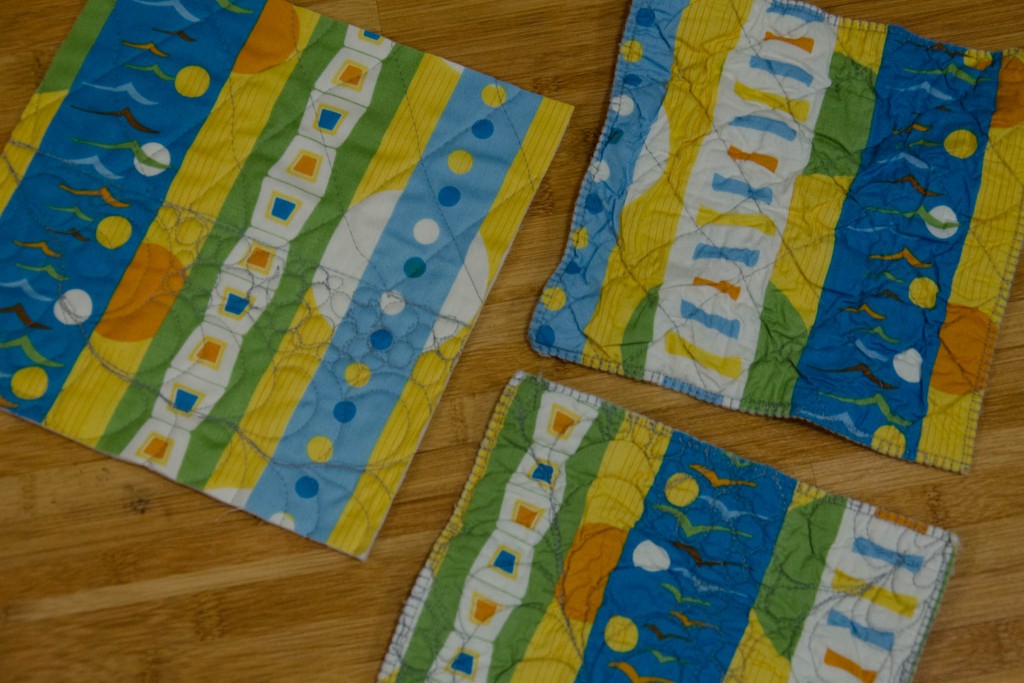 Personal Preferences
I've used all of these for various projects, but the two I use most often are 100% Cotton and an 80/20 Cotton/Poly blend. The former is great for all-cotton projects that I want to wash up all crinkly and soft, while the blend is perfect for baby quilts that I back with Minky, as the slight poly content reduces the shrinkage a bit.
What is your favorite batting type?