It has been an amazingly productive weekend. After work on Friday, I pulled out the 1812 quilt challenge fabrics with the decision to finally start and at least get the first border on the medallion and sew some quarter-square triangles. By 1pm on Saturday, I had the top done, and by 1pm today, I had this: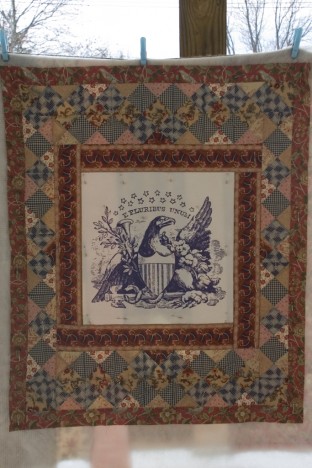 which, if you can't tell, is a sandwich ready to quilt.

As I mentioned before, my plan for this quilt is crib-to-cot-to-coffin. Although a bit smaller than extant examples of period crib quilts, my story is that what you see above was made in 1795 as a crib quilt, and measures 30″×36″. I am going to fully complete this section, then make the remaining 34″ needed (since the quilt must measure 30″×70″ for the show) and add that section on as if the crib quilt was modified in 1812 to be sent off to war with the now grown son.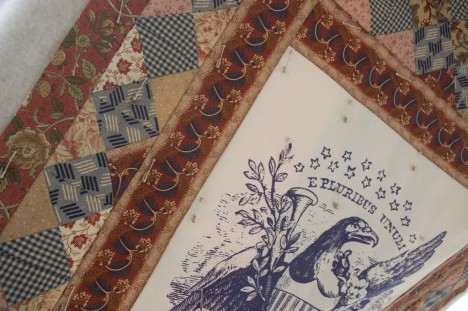 Aside from my custom medallion, the fabrics are various ones I've collected over the past few months. Some I think are quite period and realistic reproductions of late 18th century prints. Others, like the French General prints, are my artistic license—from my research, they are thematically okay, but have techniques that might not have been around until the 19th century, like fancy machine grounds. Close enough?
First, I have to figure out how to quilt this. But, since I'm far ahead of where I expected to be, I suppose I have time.
Then, after finishing the sandwich this morning, I figured I should start working on Christmas presents for the 10 nieces and nephews Carl and I have between the two of us.
I'm making this Summer Reading Bag from Sew Mama Sew for the five older girls, in various colors and styles of fabric for each personality. Here's the first! (And since four of the seven girls' names start with 'A', this can't spoil it too much 😉 )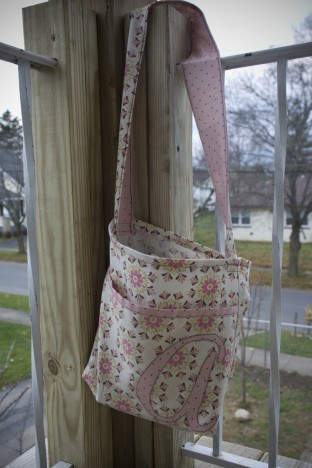 And then I took photos with a bit of help from Moof.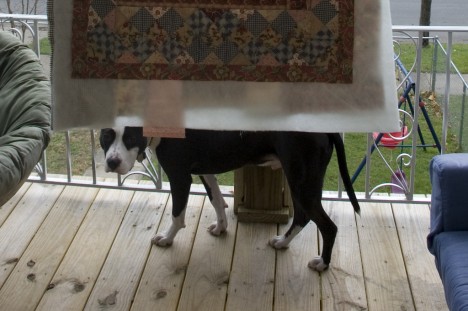 But he got bored and started staring in to space.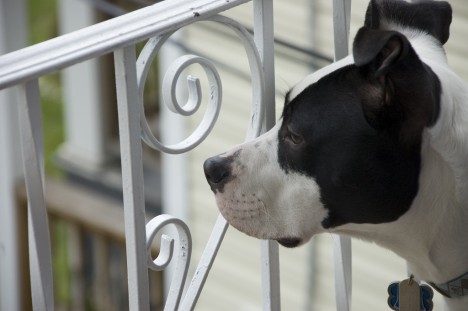 And then, I blogged it all before 4:30pm. See? Very productive.
How's your weekend going?