… or why I haven't been/won't be productive for a while.
What was once the corner of my living room that housed my sewing machine, cutting table and everything else is now all packed up: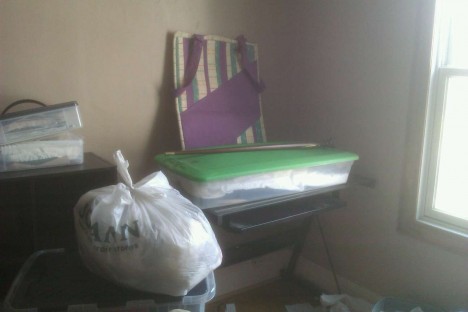 Saturday afternoon, I finished the last bit of machine stitching on presents for my five oldest nieces, and put my machine in a box, ready for a move. (It's handy to keep ahold of your original box if you have room to store it.)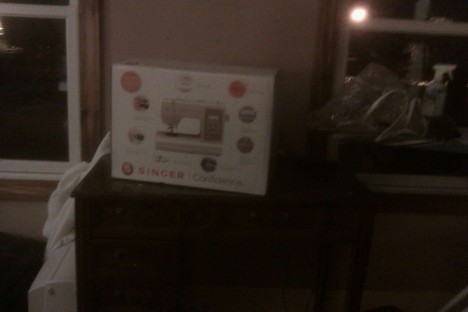 We've lived in the same apartment since the week after I graduated college, and when we moved in, we managed in 3.5 car loads coming from a dorm room and stuff stored at Carl's parents' house.
Yesterday, we packed a 14′ U-Haul truck to the gills, and still have various bits of flotsam and jetsam to pack into the cars tonight when we go back to the apartment for the last time to clean up. I did manage to keep the WIP that I'm actually working on all boxed up and in my car and not buried in the truck.
We have to be out of our apt. by the 30th, but since we both work full-time, it made sense to pack up everything over the long weekend and store it in the truck. Hopefully, we'll be moving it into a new place this weekend, but thus far, nothing has gone according to plan with that whole process (which is why we're homeless for a couple of days—when we gave our notice, we expected to be out of the apartment and in to a new place the first week of Nov.).
I do have my 1812 quilt to work on. On Thanksgiving, I started hand-quilting the medallion. I just didn't like how it was going to look with machine quilting. It's interesting… I've never hand-quilted before. I like the look so far, if perhaps not the process.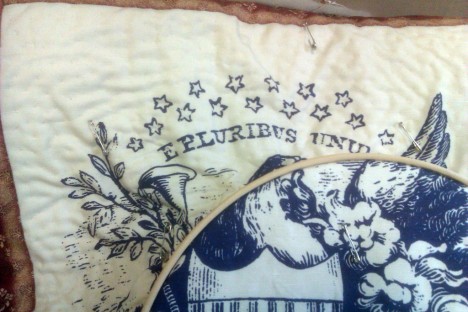 I should have the time to make a lot of progress this week. Carl's mom has a nice sewing machine, so maybe I can dig out the nephews' presents (remember, box is in the car), but first, we have to get Moof to calm down and deal with being in the house with three cats and another dog this week. Last night did not go well.
I have a lot of hope that this time next week, I'll be telling you all about my new sewing room that is all mine… no more corner of the living room for me. But this week, well… not much progress to be seen here.