The assignment for day two of the Above All Fabric Spring Quilt-Along is to sew together the four nine-patch blocks out of charm squares.
I'll admit, I've been playing with the layout since I got my charm pack in the mail. I couldn't help myself. Once I decided on my border, sashing, and bag fabrics, I chose to set aside those charms so that I could showcase as many of the collection's prints as possible.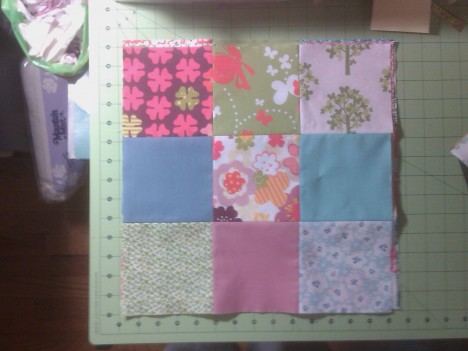 The charm pack came with two squares of each of the thin stripe fabrics (except for the teal), and I ended up using both of each (except for the Jelly Strip, since it is used for the sashing). That left two patterns that aren't used anywhere on the quilt top or bag, but I have some vague plans about how to integrate them into the project.
I'm planning on playing with the orientation of the nine-patch blocks so that there isn't a right-side up to the quilt. I think it'll be an interesting twist. We'll see how much I really like it when all is said and done.
I've been doing two things differently in this project than I have in the past: utilizing leaders and enders and pressing seams open instead of to one side.
I'm sold on leaders and enders. If you're unfamiliar, the premise is that you always have something under your presser foot—either scrap or pieces for another project—so that you chain piece and almost never have thread trails.
The final ender when you need to take a break becomes the leader for the next time you sit down. Here's one in my machine right now: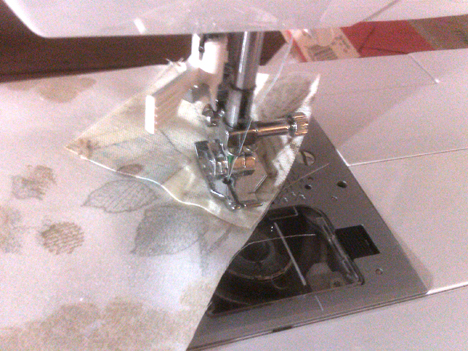 Now, one of the reasons it's nice is that you can make headway into another project without much thought. Here is a stack of partially-finished snowball blocks for the Birds' Nest quilt that I've made progress on, simply by using them as leaders and enders in this project.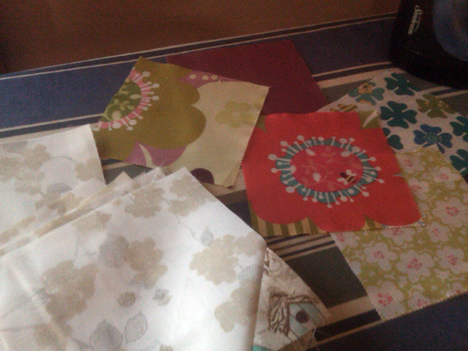 But the other really nice reason is how pretty the back looks without all the thread tails hanging everywhere—and you save a ton of time since you don't have to trim them all off!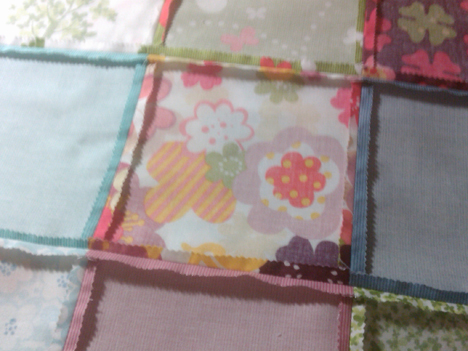 I'm not as sold on pressing seams open. The back looks nice, and supposedly it helps when doing the quilting, but it also makes it much more difficult to line up seams when they aren't nesting. My corners aren't nearly as precise as the ones in other nine patch blocks I've sewn. Maybe I just need to practice.
Next step: tackling those set-in seams and mitered corners for the sashing. I'll probably be cursing at myself pretty soon…
How's your version progressing?