I'm getting a bit ahead of schedule, but I just couldn't stop myself from working on sashing when I got home from work yesterday. Remember, I decided to make a modification and add set-in seams to the center instead of doing butted sashing.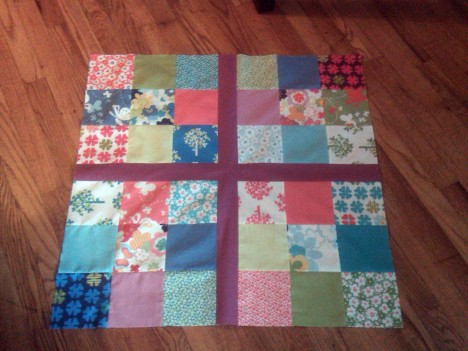 I started early, because I had a feeling that the set-in seams would piss me off, requiring use of the seam ripper, and make me want to stop working (requiring more time so I could take a break for a day or so). But actually, it all went swimmingly. It's not absolutely perfect—one seam ended up off by a little less than 1⁄8″ so there's a really small gap in the center to cover with the quilting, but it is close enough for me.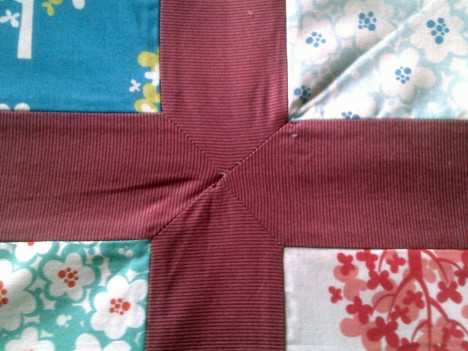 I didn't take photos of the entire setting-in process, but here's a bit of an in-progress rundown. It's very similar to making mitered borders, in that you have to fold it so the borders are aligned right-sides together, meaning you have the corner of the block folded at an angle.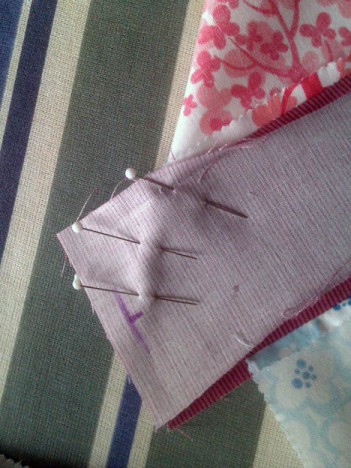 Above, I have the sashing pieces pinned and the end seam allowance marked, along with the center line, which is where my seam stops. Then, I sewed diagonally from the T intersection to the seam line of the block and sashing.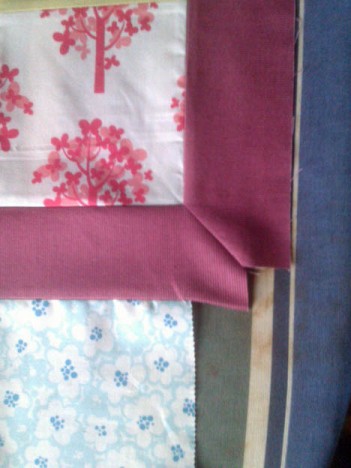 Keep doing that for the other seams, and eventually you have a completed center. The last one is the one that really matters—it needs to line up exactly with all the other seams at the center, which is why good measurements and exact ¼" seams are really important (and why my being off by a few mm on one seam made the result less than perfect).
Close enough for government work, or a picnic quilt, in this case.
After finished the center, I forced myself away from that project and finished up the snowball blocks for the Bird's Nest Quilt and also sewed the strips together for the nine-patches. It's going together very quickly, which is good, because I need it finished in a month.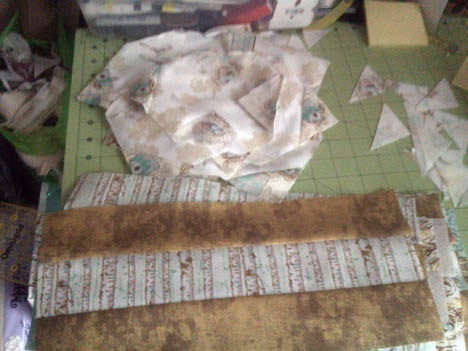 According to the schedule, we're supposed to start on borders and sashing tomorrow, so look for more updates this weekend. Tonight, I need to take a break from sewing to work on a freelance Web development project. How do you balance all your hobbies/work?