The Above All Fabric Spring Quilt-Along started yesterday. The assignment: cut out the sashing, border, and binding strips and work on arranging the charm squares.
Backing up: fabric choices
Before I can blog about progress on this, I have to tell you about my fabric choices, huh? I'm doing the quilt top entirely out of Just Wing It by MoMo for Moda. I played around with some other collections to go with the Just Wing It charm pack, but wasn't feeling it.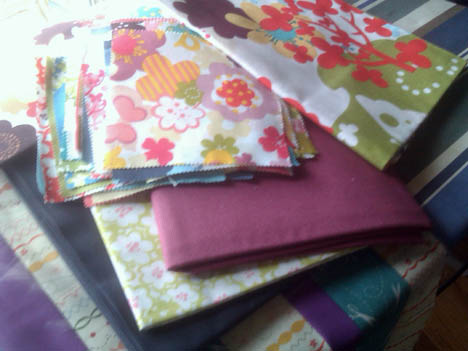 Sashing & bag lining/straps/ties

Jelly Stripe (32447-20)

Borders

Leaf Flowers (32444-19)

Bag body

Multi Winged Flight (32440-27)

Binding

Multi Flower Garden (32441-13). It's not visible in the above photo but is basically that top charm in a (very slightly) different colorway.

Backing

Kona Charcoal. I wanted a dark background, because I'm envisioning this quilt going to a lot of bike races and being laid out on a lot of questionable outdoor surfaces.
Looking forward: modifications
My sashing fabric is a thin striped fabric, and I don't want the abrupt pattern direction change that would come from normal sashing techniques (especially not in the exact center of the quilt!). In pictures, I don't want the center of the quilt to look like the left, I want it to look like the right. Hello, set-in seams.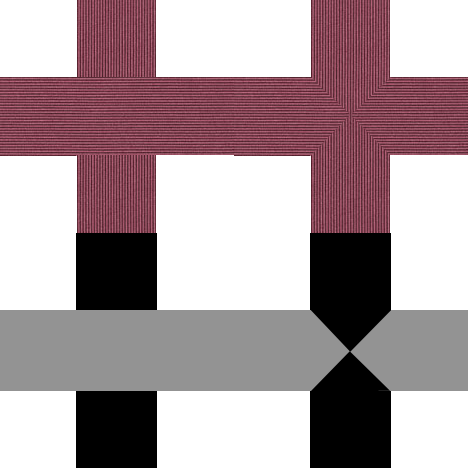 The outer sashing corners will be mitered, as will the border corners. It's all just kind of a personal preference thing, really. I may not like the process, but I really do love the look of mitered corners better than butted ones.
I mention this now, because I had to adjust my cutting since this requires a different strip configuration.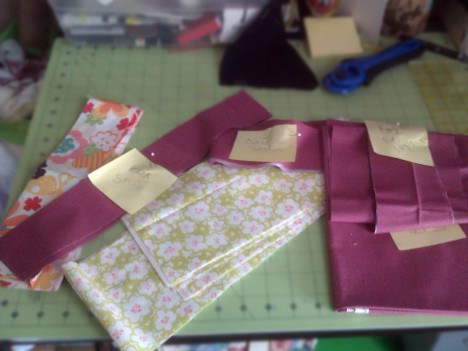 So, my current pieces are:
4 strips: 5″ × WOF (Borders: I don't like cutting down borders until my center is squared!)
4 strips: 2.5″ × WOF (Outer sashing: see above… I figure the outer sashing is essentially just an inner border)
4 strips: 2.5″ × 15″ (Inner sashing. Math: 13.5″ finished block height + 2 seam allowances [.5″] + half the finished sashing width [2″/2 = 1″] )
5 strips: 2.5″ × WOF (Binding)
This would be a great project for bits of a jelly roll… look at all those 2.5″ strips!
I'm using the same fabric for sashing and the bag lining/straps but evidently fail at math, and only ordered 1.5 yds. of the purple stripe instead of the full 1.625 (1 5⁄8) yds I need according to the instructions. I went ahead and cut out the pieces for the bag as well, and was lucky to have enough—I even have enough for a whole spare 5″ strip. Thank goodness the fabric was very close to square to start with.
Another option that wouldn't require extra fabric would be to make a 2.5″ square for the center out of whatever fabric you want. I have a feeling I'll make this quilt again, so perhaps I'll do that next time.
I've also figured out my nine-patch fabric ordering, but I don't have a decent picture of it yet. You'll have to wait until next time…
Are you making this, or have you made Moda's Kate Spain Verna pattern before? How's it going for you? If you haven't, it's not too late to join the QAL!