It's official: I have Project ADD. The damask quilt is on hold. Now I'm working on one of the jelly roll quilts. Here is the not-a-full jelly roll cut into the required pieces. I still need to cut up the sheeting I'm planning on using for the inner border/snowball background blocks.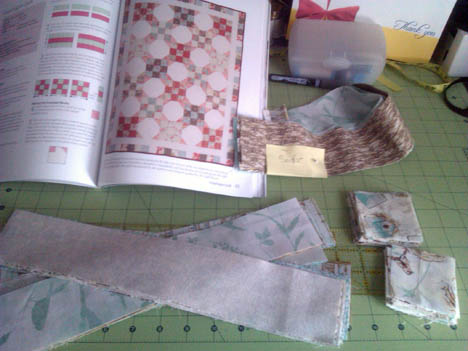 Not to make too many excuses, but I have good reason for switching gears: the quilt is a gift, and I realized that the damask plan was ultimately wrong for the recipient, and this fabric/pattern is a better fit, I think. And I have a deadline for it to be done.

The damask quilt will be a gift for someone else that I have in mind, but there's no real deadline for it. My planned layout is very simple, so it should go together very quickly as soon as I cut the sashing pieces. But that will only be after the above quilt (hereafter referred to as the birds' nest quilt). And the applique project. And the AboveAllFabrics Spring QAL.
Here's a peek at what I was doing earlier in the week. This is the lining for the vest (as chosen by the friend I'm making it for—he's a musician). Also note my high-tech drafted pattern from the original vest.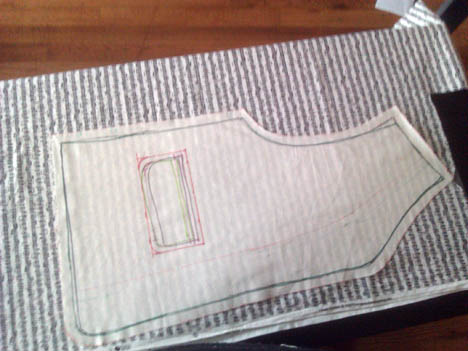 And just so I can throw in a (poor quality) photo of Moof and give you an idea of what my sewing area is like…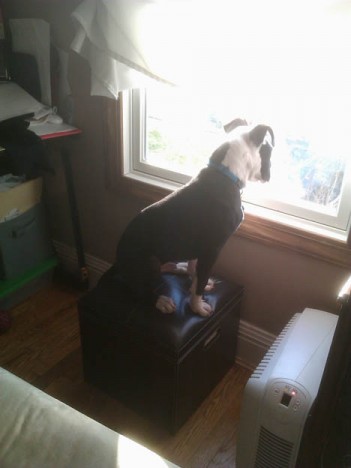 I bought that ottoman/box at Target last weekend for $9 and change! It had a clearance sticker on it for $19.95 or something, because the faux-leather fabric on one corner of the lid is scrunched and kind of peeling up (not a big deal to me), and it rang up even cheaper at the register. It's great to store large cuts of fabric and various boxes and sundries in it (there's really a lot of room), and Moof has decided it's the perfect seat from which to stare out the window and whine at the downstairs neighbors' dog when she's in the yard, or look to see if Carl has come home yet.
That, by the way, is the corner of my living room a.k.a. my sewing space. The wood you can barely see on the right is my sewing machine table. The desk on the left is my cutting/whatever else I need it for table. There is very little lighting in the room (no overhead fixtures), thus the poorly lit photos I share. Oh, to have my own space for sewing someday…
Do you have project ADD? What are you working on right now?