If you are looking for something fun to do in the Central/Northern NY area this month, consider taking a trip to Sacket's Harbor for the Great Lakes Seaway Trail annual quilt show.
This year's theme is "Beauty of the Byways," allowing for a wide variety of quilts inspired by the national byways. The show will also have two traveling collections on display—one collection from the 2012 Hoffman Challenge traveling show and another from the Route 66 traveling show. There are so many quilts that they're spreading them over four historic buildings in the village!
The show is open for two weekends: March 16–17, 2013 and March 23-34, 2013 in Sacket's Harbor, NY.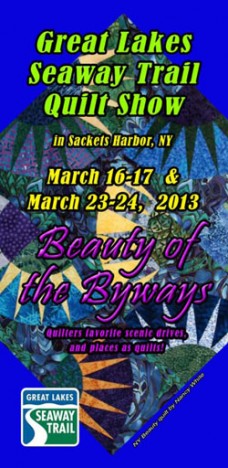 You can learn more about the show and the Great Lakes Seaway Trail on their website and their blog.
I'm doubly excited to visit this year, because not only do I have a quilt in the show, but my little sister is visiting me and is going to go too! See you on the 16th!