Remember, just last week, when I posted about all the projects I'm working on/thinking about working on? Okay, just checking. Now I've got it in my head to join in on a quilt-along hosted by Above All Fabric and Chris of Frecklemama.
It starts on April 11, so I have two weeks to finish up the vest, make progress on the applique project and piece the damask quilt top. Oh, and do some cutting/quilting/piecing pre-work for a class I'm taking on April 12.
I can do it, right? I was feeling very motivated this weekend. See, here is one of the welt pockets I made, and about 3⁄8ths of the pieces for the damask quilt.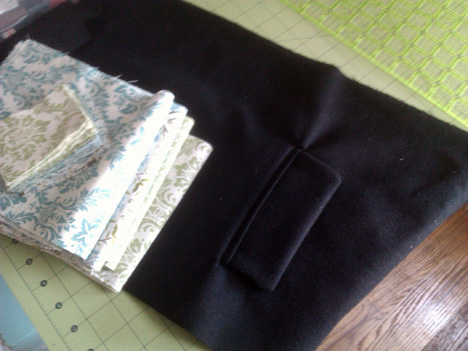 For the quilt-along fabrics, I ordered a charm pack of Just Wing It by MoMo for Moda. That's all I have so far, because I want to see the fabric before I decide on what should accompany it. Hopefully the yardage of the line will be available in time for me to make the bag. I also ordered some Kona Magenta because I think it might match, but if it doesn't, I'll use it along with the Tailor Made Teal Scissors and Multi Stitching Stripes fabric I picked up for that class I'm taking (we're making a rotary mat and rulers bag and need 1 yd each of 3 fabrics).
Speaking of Kona and my sanity, I really wanted to do this Modern Solids Quilt Along hosted by Patchwork Squared, but I'm not, because I need my sanity to deal with house training Moof, dealing with this non-Spring weather, trying to do Flamenco lessons and getting into shape for the start of the cycling season. And because there may soon be a Utica/Mohawk Valley MQG, so I need time for that. See? I'm not that busy. Right? Right???
Have you done/are you doing a quilt-along? Do you have any tips for keeping up to speed and being a good participant? Are you doing this one?