Looking back, I should have waited on making either Wrench or Churn Dash and used a different color scheme for one, since they're essentially the same block. But, they're done. And a third—Practical Orchard—for good measure.

#20 — Churn Dash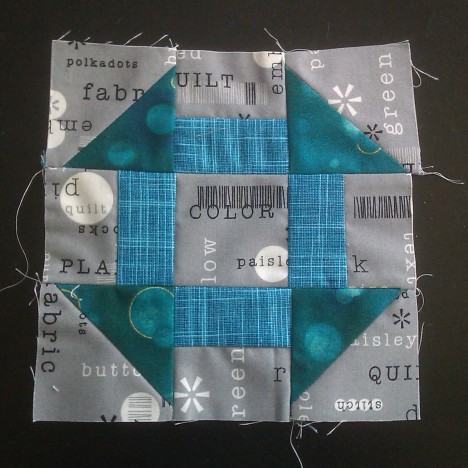 Simplify the block
Instead of the individual shapes, cut the following:
Background fabric: one 2.5″ square, two 2 7⁄8″ squares, and one 1.5″ × 10″ strip,
Corner fabric: two 2 7⁄8″ squares,
Bar fabric: one 1.5″ × 10″ strip.
Create half-square triangle units out of the larger squares. Sew the two 10″ strips together along the long side, then cut into four 2.5″ squares. Complete the block with the nine squares as indicated in the book.
#111 — Wrench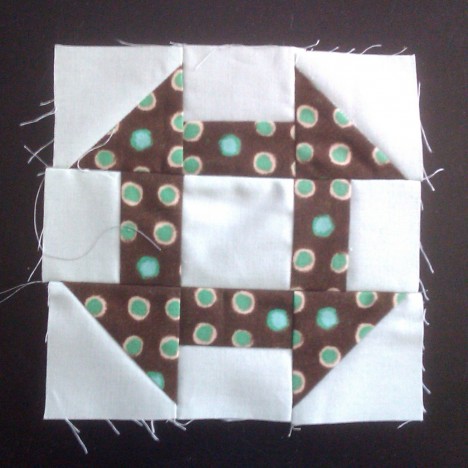 Simplify the block
This is identical to Churn Dash, except instead of contrast bars, you cut that fabric from the same fabric as the corners.
#69 — Practical Orchard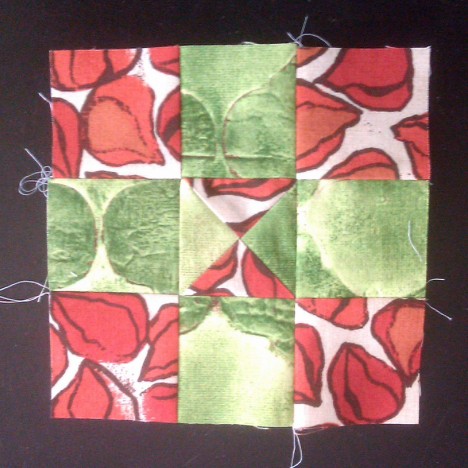 Simplify the block
With a name like practical, how can you not simplify it?
I screwed up on the quarter square triangle center and had to trim it down 3/8″, so I'm not sure what to tell you about it, but you can use strips to cut down on dealing with all the other 2.5″ squares
For the eight 2.5″ squares:
Color 1 (corner): cut one 2.5″ × 10″ strip, then sub cut one 2.5″ square off the strip,
Color 2 (interior): same as above.
You should have two 2.5″ × 7.5″ strips and two 2.5″ squares, plus your quarter square triangle center. Sew the two strips together along one long side.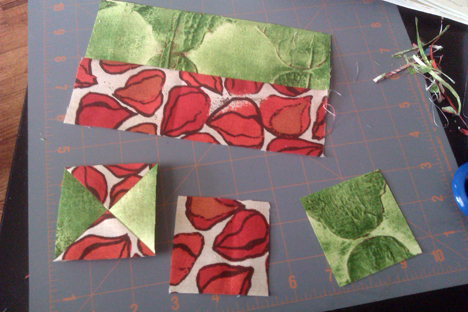 Cut it into three 2.5″ × 4.5″ units, and sew the color 1 square to the color 2 side of one unit. Sew the color 2 square to your QST. Construct the block like this: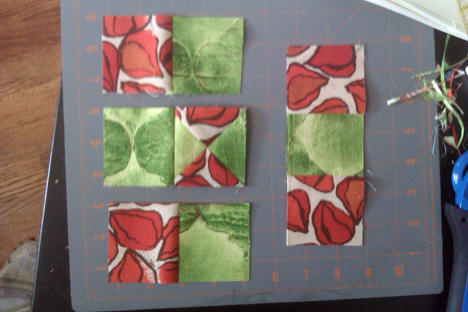 What is this all about?
A group of quilters are working their way through The Farmer's Wife Sampler Quilt by Laurie Aaron Hird, trying to complete two blocks a week and posting them all to the group Flickr pool.
Check out our progress:

You can see all of my progress on the Farmer's Wife Quilt tag page.