Three years ago, I made my first quilt. I knew nothing about quilting but a fair amount about sewing fabric together, so I dove in, read a bit, and ended up with something that wasn't half bad. I also made mistakes, particularly using fabrics that couldn't handle the love its toddler owner has given it. So, three years later, that same recipient is getting a second quilt—my nineteenth quilt finish (if I counted properly).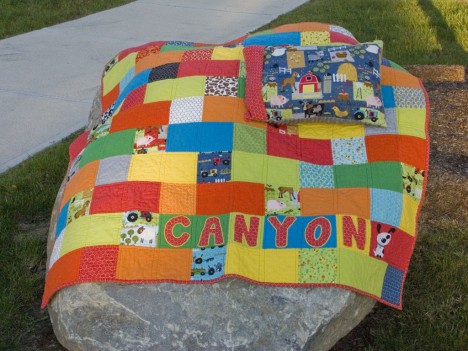 I'm still not one to use solely quilting cotton. The solids in this quilt are flannel, and the back is Minky. But, those hold up pretty well, unlike silk.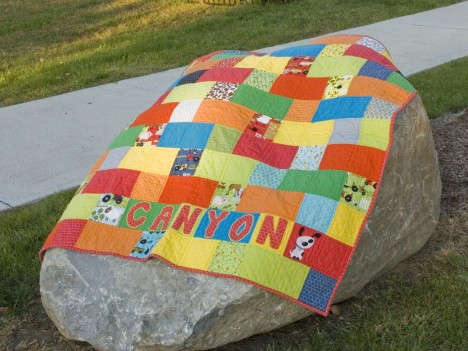 The batting is low-loft cotton (Warm & White, mostly because I had it on-hand in the right dimensions); that first quilt is probably the only one I will ever use a high-loft poly on. His name is appliqued, but done so with the embroidery capabilities of my machine, rather than manually (I'm using the excuse that I needed to test out my machine post-service; I'm not sure that it was any faster that way, considering the rehooping and trimming, etc.). An embroidered dog keeps it company.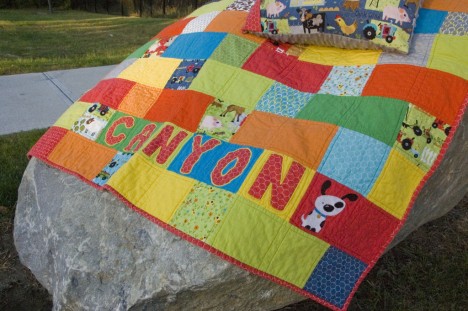 The quilting is a simple seam-line echo, in four of the colors from the quilt top; red, orange, yellow, green. There was no rhyme nor reason, those are just the colors I had that matched and didn't have enough to use just one color. I went through an extra spool of the yellow, though, doing the applique.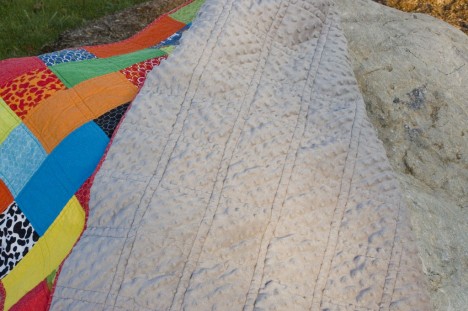 I bound it in one fo the prints from the line, a red chicken wire pattern. When all was said and done, I still had a lot of that red, a matching FQ of one of the animal prints, and a bit of extra Minky, so I threw together an envelope-style pillowcase for a travel-sized pillow to match.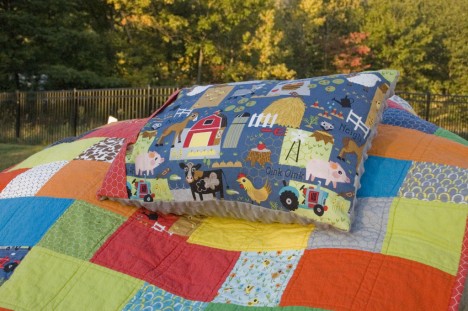 I had to add a hidden bit of velcro to keep it properly closed, as the envelope overhang gapes when the pillow is in there (I was winging it, measurement-wise). In the future, I want to play around and see what the minimum overlap is for that; it seems like an interesting problem to solve.
Three years, nineteen quilts (plus some minis and many other projects), but I think I'm just getting started considering I've already quilted another and am in the middle of one more at the moment!