I was actually quite productive over the weekend. I pieced most of the back for the Strip-pieced Lone Star/Star of Bethlehem quilt, although I had to stop before I finished, because it was just all going wrong on Friday night and I needed to step away. It happens.
Then, I managed to finish the top and back of the Synchronized Squares quilt, but don't have photos of either, thanks to the torrential rain we received Sunday courtesy Irene.
As of last night, it's all sitting on the back of the couch ready for me to baste it. I just couldn't bring myself to crawl around on the floor, not to mention my painter's tape seems to have disappeared.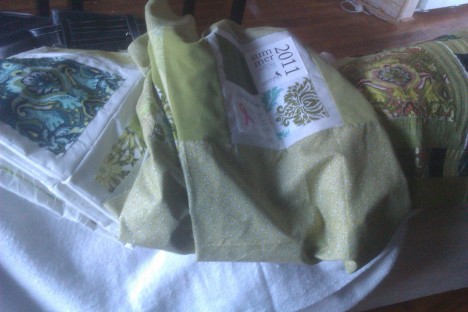 I do want to get it basted, as I'm quite eager to start quilting it using the 28 wt. Aurifil I picked up from Cazenovia Fabrics this weekend (I need to write another road trip shop review post… stay tuned)!
But, the most exciting thing to me was that my Spoonflower order arrived! I have complaints, but really it's just a "now I know better for next time" sort of thing, since this was my first real order, and I didn't actually order a swatch of my design first, silly me. Still useable.
The main problem is that the medallion is much more deep periwinkle than indigo, not that you can really see the proper color in the sneak peaks below. The photos actually look exactly how I envisioned it.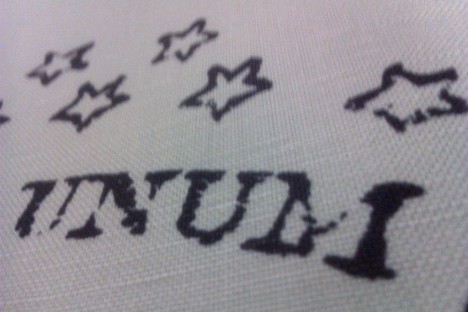 Right now, I have the medallion taped up to a window, hoping that if the week is sunny, it might fade a little.
The label that I had room to add on printed wonderfully. I'm very happy with it.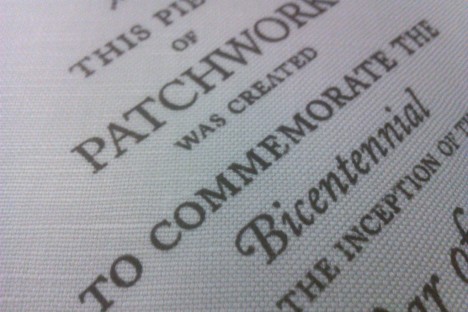 And, I still had more room, so I decided to print some extra logo labels, and a larger one that I intend to cut out and applique on to something. Word of warning: 17.5″ × 26.5″ does not give enough breathing room for a 18″ × 27″ FQ of the Linen-Cotton blend. The side with the labels was just a bit uneven, and the tail of my large logo was cut off. Salvageable, but something I'll definitely keep in mind in the future.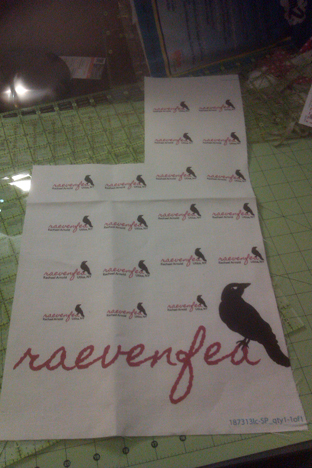 I think I'll use some of the labels from the cut edge, which don't have enough white space around them, to test a few more methods of fading the fabric a bit. I really want to cut down on the violet undertones in the medallion… even if it means lightening it substantially. Right now, it clashes with the fabric I have collected and isn't a period-appropriate color.
So how was your weekend?