Okay, I'm officially not allowed to buy fabric for the rest of the month. Well, the next 22 days, at least. I have plans to shop on vacation (going home to Missouri for a week), but until then, nada. There's really no reason to purchase more, anyway, because this has all arrived recently:
A Simpler Time precuts and yardage, plus Somerset Cottage from 1 Choice 4 Quilting. Quite traditional yardage for a jelly-roll–based, strip-pieced Lone Star. I'm thinking Christmas present for either one set of parents or grandparents. I just couldn't help but buy this, even though the bi-weekly class I'm taking covering different Lone Star techniques doesn't start until next week, where we simply talk about what we should consider for fabric. I think some linen I have in my costuming/sartorial stash might go with this, as I still need some yardage for the borders/background of the lone star. I like mixing fabrics.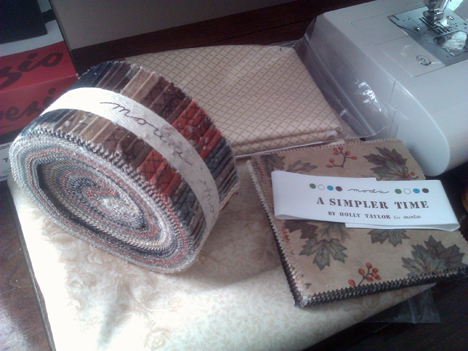 Moda Bella Clover and one of the Wild Thyme prints by Carolyn Gavin. I took a sanity vacation day, which meant I could go to the LQS and found these amid the very traditional designs that comprise their inventory.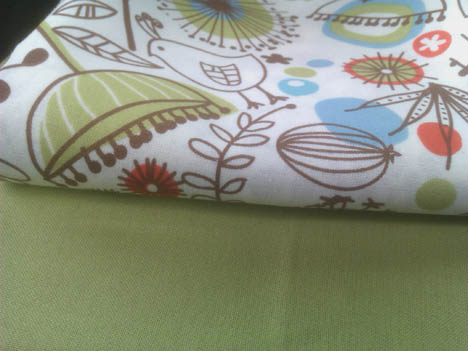 A selection of solids and novelties from Above All Fabric. From bottom to top, that is some Sock Monkey novelties, Make Life, and Moda Bella Solids in Caribbean, Teal, Circa Celadon, Home Town Sky, Grass and Pistachio.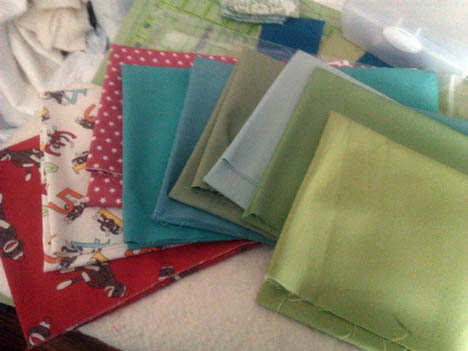 The reason I bought 4⁄6 of those solids was trying to match the colors I need for the damask. Teal and Pistachio are it! Kona Tarragon was my fall back for the green if neither of the Bella ones worked. The Clover I bought didn't have enough blue in it.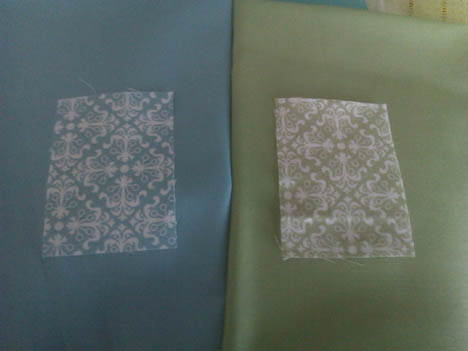 Finally, a line from JoAnn designed by ColorBok. I'll blog about the quilt I made from these and the Bella Clover later this month (all that's left is quilting, but it's a present that I don't want to spoil). I wish I had the Bella Caribbean when I started, because I would look great, but that darker blue JoAnn solid worked fine.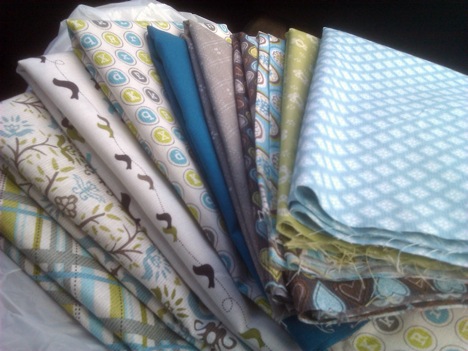 Before I go, let me just say that Shawna from 1 Choice 4 Quilting and Melanie from Above All Fabric run great shops with amazing customer service. Both of my orders had problems (stupid PayPal failure and fabric shortages), but they were both extremely quick to respond and help resolve the issues. Not to mention their great shipping times! Thanks for helping me feed my addiction, ladies!