Today's public service announcement is: pictorial evidence of failure to remember to change needle as often as should be done.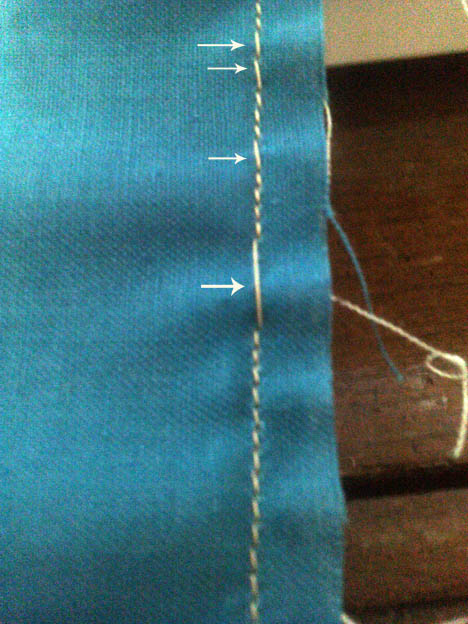 Well, one of a few things that can happen. So, remember to change them, ladies and gentlemen, else you'll get rather familiar with your seam ripper.
Luckily, I caught that one early. I also sewed an 80″ strip with no bobbin thread the other night while trying to sew and pay attention to Talkin' Tuesdays at the same time. Brilliant, that. At least there was no seam ripping involved, since there was no seam.
Quilting tip of the month: wind a lot of bobbins of neutral cotton thread, so when you do run out, you can just pop a new one in. Piecing is pretty forgiving about thread color, within reason, so I just throw whatever is handy in. I almost always have some grey, beige, tan, light blue etc. bobbins around. It seemed so foreign to me, coming from sewing clothing, but now it makes a lot of sense.
To make up for a lack of real updates, here are a couple quick photos of works in progress. I'll talk more about them at the end of the month, once they're both finished and delivered.