I mentioned early on that I wanted to try drafting a bifurcated skirt out of a period tailoring manual. I'm still doing that, sort of. Except, I'm also kind of cheating, because I realized that if I enlarged this one: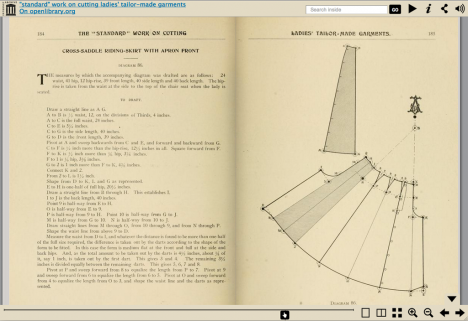 …so that the front measurement (line C-G) was the right length for my models, it worked out that the waist was also right (in other words, the measurements I needed to draft to are pretty much correctly proportioned to the book's draft).

So, I didn't really draft, I just enlarged a screenshot a whole lot and printed it…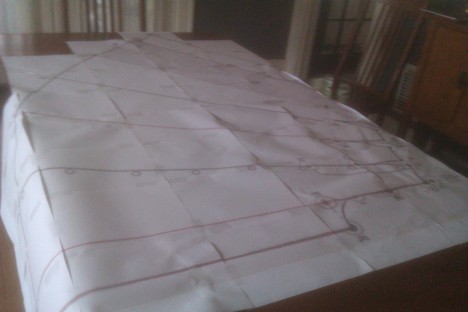 …then traced the individual pieces and (generous) seam allowances onto Pellon Easy Pattern (a non-woven, non-fusible interfacing that I use to trace pretty much every pattern I make). This has the advantage of being fabric-like, so I could pin it together and see if the pieces for half of the pants actually seem to work right.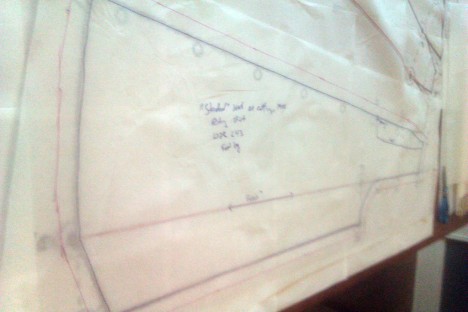 They do, so, it's time to cut into the fashion fabric.
This is the latest of the patterns I found, but looking at the measurements and drafting instructions for all of them, I feel secure saying that they didn't change much in the ten years' span in style or width of skirt, so this still fits my time period, mostly.
The book explains how to make an apron for the front, but I'm not bothering with that. No need to pretend it's a real skirt for my purposes. Also, since aside from saying that it opens between points 4 and 11, there's no instruction on waist bands, I'm getting a bit creative and taking my cue from this extant cycling skirt in the Met's collection:
I love that detail.
I probably won't get quite that far on it before we go to MO, as I want to be able to take in/let out seams/darts as needed when I have my sisters try it on.
But, it's progress, no? My current plan is to have this be unlined—the wool has enough body as is. However, it is a bit scratchy, so maybe I'll ask C&K's opinions and throw in a lining before I add the waistband and other finishing bits if they request it.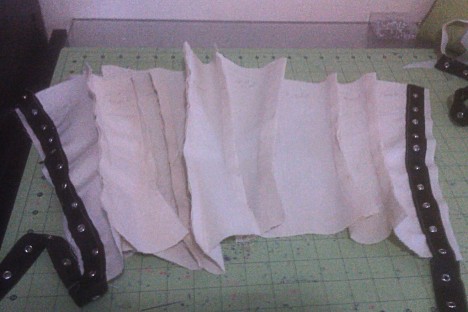 Now, the real quandary: to add bones to the corset mockup or not to add bones. Bones give a better idea of fit, no bones allows me to take in or let out seams if required…