I've been unproductive and messy and it has all culminated in my sewing room looking like this last night: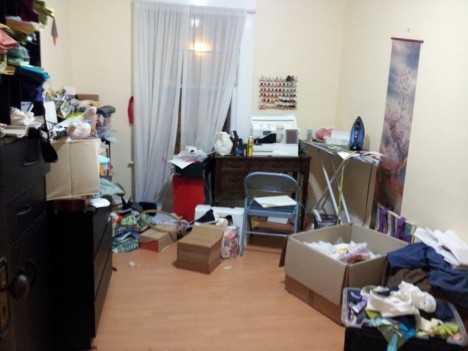 To be fair, it's because I'm trying to reorganize everything and had just removed the desk that served as my cutting table to make way for a new cutting table with storage (also known as a dresser), a new bookshelf, and a new desk for my sewing machine (anyone want a Singer Touch and Sew c. 1976? It needs service, but it comes built into a desk and has all its parts to the best of my knowledge. Free to anyone willing to cart it away from my house in Utica, NY. Ferris? Bueller?).
But, it was quite a mess to begin with and really has been for about 9 months since I originally set it all up. In that time, I've found some things that work, and some that don't, so this week seems like a good time to start over, particularly because I'm sort of in-between projects and bouts of creativity (I do have projects that my brain wants me to be working on, but artistic me just isn't feeling them).
In the past few weeks of non-posting, I've only made a couple of things. One was a present for my friend's son, which in now late and still not mailed. I decided to pull the embroidery unit out for it.
I downloaded this free (at the time) Pirate Octopus from Daily Embroidery a while back, and thought it was perfect. Because I don't entirely trust designs I find on the internet, I stitched out a sample on a scrap.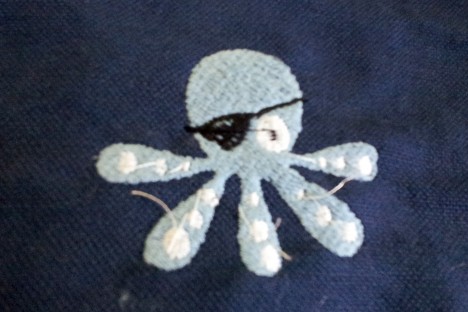 Awesome (ignoring the jump stitches I didn't snip cleanly). The final one is in different colors (but same thread types). It is stitched directly onto the bag. It isn't nearly as awesome, because when my bobbin ran out halfway through, I grabbed a normal-weight white bobbin, not the spare bobbin-weight one I thought I had. Using bobbin thread really does make a difference—with normal-weight thread, the bobbin threads pulled up in certain areas.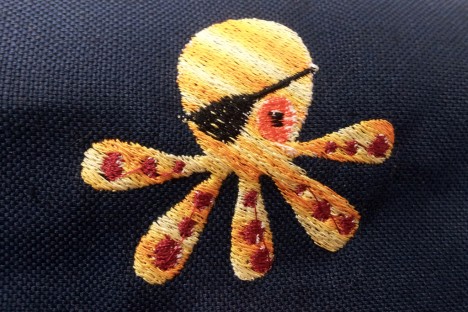 Bummer. But, it is ok. I just need to remember to mail it.
The last thing I finished is a bag that will be filled with craft supplies for my quilt club's service project. I made a pattern for them, which I hope to turn into a blog post later this week (I finished the pattern for the club about 30 min. before the meeting yesterday).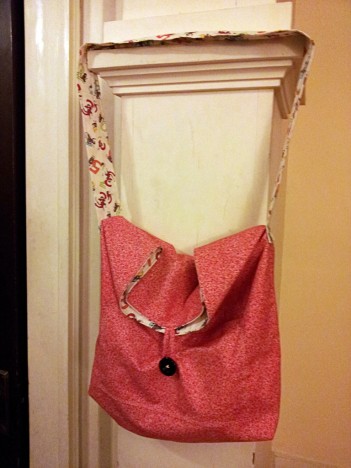 Now, I need to get everything back in order post haste, because I promised my sister a "Rachael Arnold" zippered bag in lieu of the "Vera Bradley" one she keeps asking our other sister for. Her birthday is tomorrow… I'm a bit behind these days.