At least from this angle (although I still need to build my new sewing machine desk, but don't know what to do with the old one until I can get rid of it)…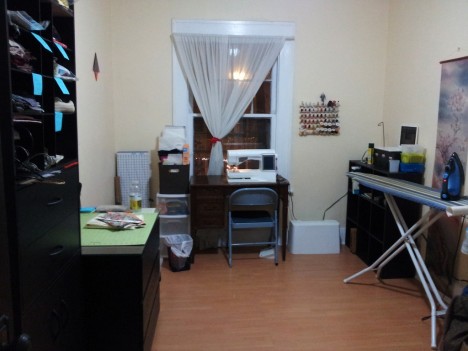 One of the major problems with the old setup was that I didn't have any good organization for my works in progress—they'd get tucked away into boxes and what was out of sight was out of mind. Also, while I liked the idea of beautifully organized fabric in little cubbies, in practice, the shape of those cubbies just doesn't work for me. So now, the old fabric shelves are going to be used for WIPs so they are in sight and easy to access (you can see my sticky note labels on them in the foreground). Meanwhile the old bookcase that had bins for some WIPs, supplies, books, and some fabric is now going to be all fabric, books, and supplies, as will the second one once I build it.
Just don't look at the other half of the room…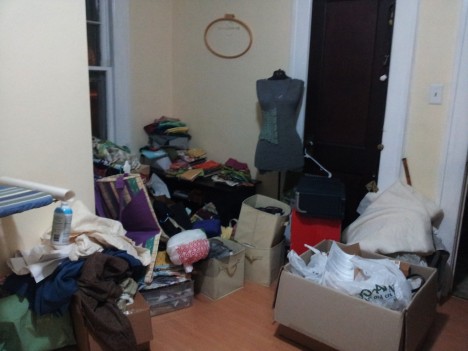 All of that needs to be sorted, filtered, and put in a new home on the bookshelves (or in the trash, as is the case of the giant box on the right). I plan on tackling all that organization after I finish up this time-sensitive project this week (since at least I have a nice workspace again):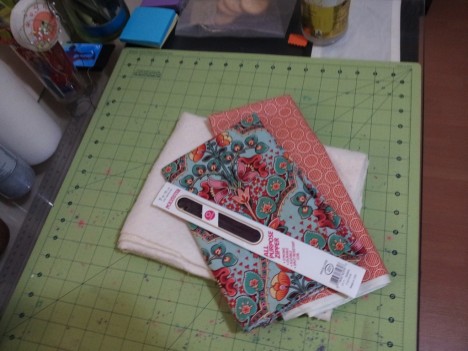 Also, is this a good time to mention that since I've only gotten as far as partially finishing the divided skirt and that half of a corset pinned to the dress form that I may not complete the Steampunk costume in time for my sister to model it at Christmas? Well, that's what it looks like. But, maybe some organization will get me interested in working on it again.