Welcome back to another Vacation Christmas reveal. I was far busier over the past two months than you might have guessed based on the frequency of my posts here. Now that we're traveling to Missouri and delivering gifts, I can show you what I've been working on. These were the last of three types of gifts I made for the 10 nieces and nephews Carl and I have between our two families.
---
The two youngest nieces were a bit of a challenge for me. I made a bag for the older one (four) for her birthday a few months ago, so didn't want to duplicate it, and the youngest isn't yet two, so I wanted something else appropriate for them.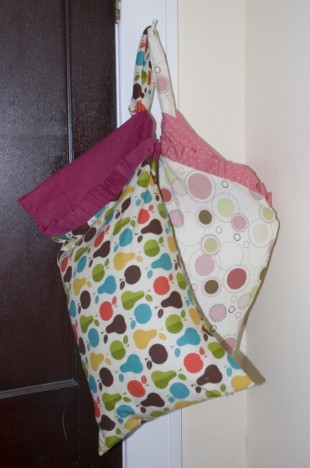 I made them pillowcases that can double as quick sleepover bags—essentially just extra long cases for the pillow with a handle at one end so that they can put a change of clothes or a stuffy in the end. I swear I came up with the idea on my own and made it without a tutorial, but for those of you interested in ones with zipper pockets for older children, this sleepover pillowcase tutorial was featured on Sew Mama Sew a few days after I started working on the ones I made.
Mine are made using small travel-sized pillows (14×20″)—perfect for little niece heads. The pillows don't quite come up to the cuff, so there's a bit of room in there. The pears and apples pillow is for my niece. The body is quilter's cotton, but the cuff is corduroy because I liked the color coordination. The other is for Carl's niece, made all of quilter's cotton.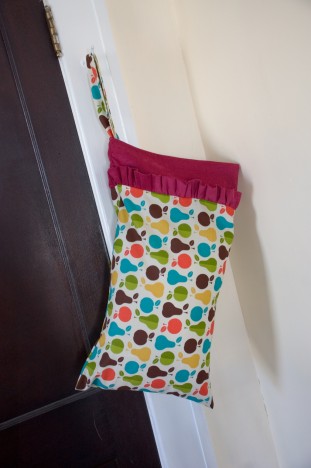 I used almost a full yard of fabric—two half yard pieces, although fat quarters also would have worked.
The first half yard is cut down to make the main body of the bag—the fold is at the bottom, and the selvages were where the cuff is added. The cuff is doubled fabric, and the ruffles were made by folding a 5″×~50″ pieced strip of fabric in half and gathered using the zig-zag over heavy thread method. It's been a very long time since I've made ruffles (try 15 years), so they aren't the most consistent. The strap is sewn into one of the side seams, and is made of the leftover body fabric.
Everything is made with french seams—I added the cuff and ruffle first, then sewed up the side seams. Going through all those layers was a true test of my new machine (one it didn't handle all that well—I overloaded the motor and broke a needle on each pillow, so resorted to hand-cranking for that half-inch).
I love the fabric I used on my niece's. When her mom told me her favorite colors (orange, yellow, red), she added "[niece] says, but I think pink and purple might be safer" so I decided to split the difference and the print combined with the magenta corduroy was perfect. The other is mostly pink because that is what her mom always suggests. I hope they both love them and get plenty of use out of them.
I hope you're having a wonderful last day of 2011. Check back tomorrow for one final Christmas reveal!