Spring is slow coming here in Vermont—it's truly mud season rather than flowering wonderland—but we had the chance to see a few blooms when we traveled down to New Jersey for Easter with Carl's family. Even the bees were out and about.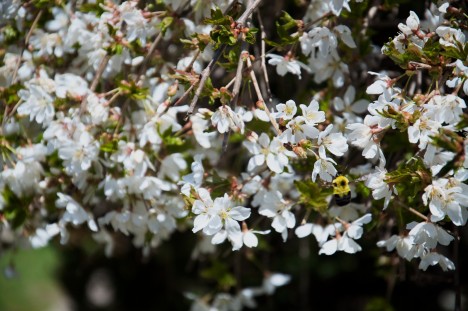 For the past few years, Carl's been stuck having travel toiletries either mixed in with mine in a bright pink bag I received as a free gift with a cosmetics purchase or in a zip-lock baggie (required on planes, pretty lame by car), so I thought it high time that he have a toiletry bag of his own. Past time even, considering he's been traveling back to Utica every other week for work since we moved up here last July.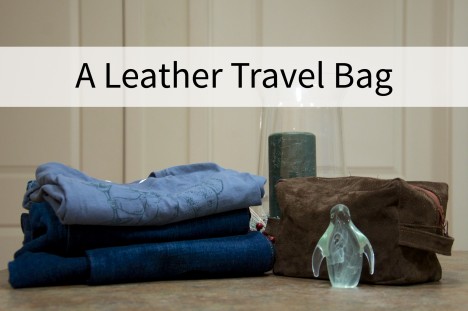 It's a slightly smaller version of the cosmetics bags I've made over the past couple of years with squared-off corners and without the wrist strap. The fun part was making my first project out of leather. I picked up an unlined leather shirt/jacket at the thrift shop to play with and still have plenty of scraps leftover for more bags or whatever else I dream up.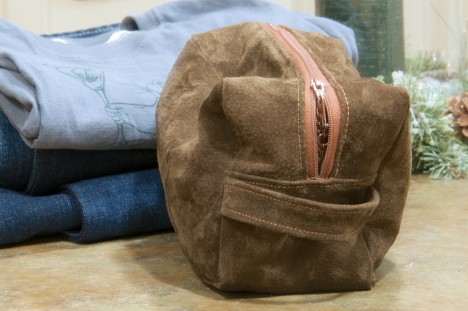 Since the outside is leather, I quilted the lining to give the bag extra body. If I make another, I may try to stick to heavyweight interfacing instead, as the batting gives the lining too little drape. The bag doesn't keep its shape perfectly, but it does stand on its own, even when empty.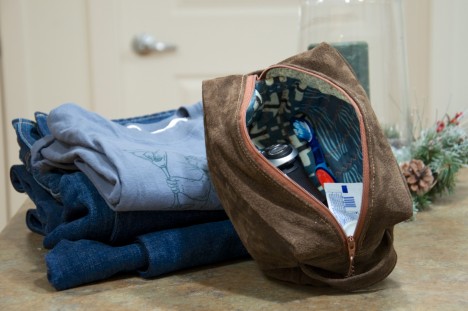 The lining is made from the scraps of his quilt. No one print was large enough for the whole bag, but I was able to limit it to three different ones. I stitched it all with a heavy duty thread, but still have learning to do about proper top-stitching length on leather. Overall, I'd say my machine handled it just fine.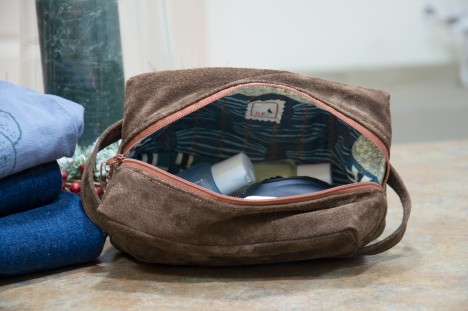 It worked out well for our weekend trip, and I hope it serves him well with the various travels we're sure to do this year. I also hope spring finally comes to Vermont—traveling is much more pleasant in gorgeous weather like we saw this past weekend.