When I made "Disappearing Seven Wonders" last year, I purchased far more fabric than I needed for that top—including prints from the green and orange colorways. When it came time to whip up something for my nephew's 13th birthday, it was the perfect stack to pull out of my stash.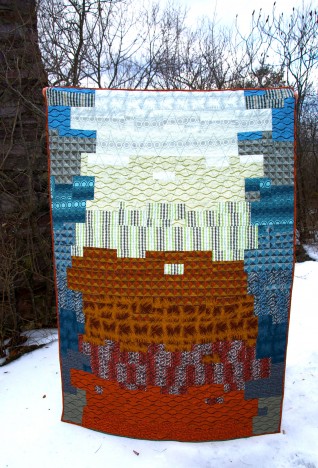 In the past, I've always precisely planned out my quilts. When I set out to do so with this one, I realized that while I needed to aim for a certain final dimension and thus height of the individual strips, the actual piecing didn't have to be precise. So, I branched out in a new direction and played with impromptu piecing. I worked with 2.5″, 3.5″, and 5″ WOF strips and pieced the different sections without much planning at all. It was a fun exercise.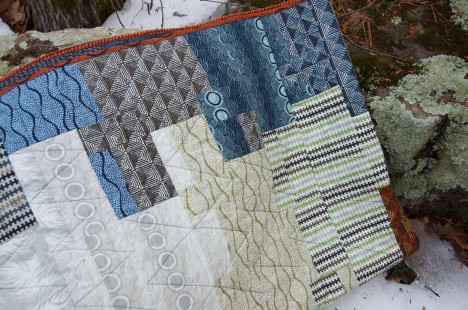 Sometimes I had to chop a bit off, or add a bit more to a strip, because they weren't the right width for the quilt.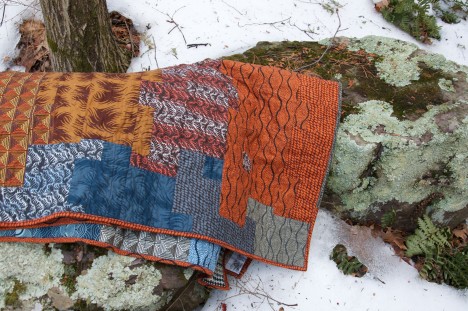 Because 2.5″ + 3.5″ is greater than 5″, I was able to trim down different sizes and mix up seams for an even more arbitrary layout. It all ended up creating a fun flow to the quilt, and a more interesting layout than my original thought of simple floating strips.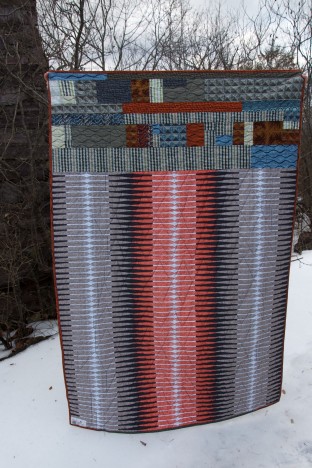 The backing is pieced from a Ty Pennington Impressions home dec print and leftovers from the front.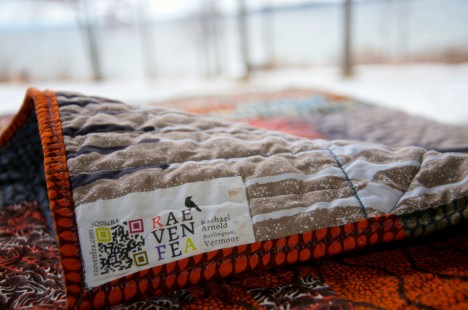 Although this home dec fabric is lighter and finer than the backing on my last quilt (Thorny Patchwork), I chose to stick with straight-line quilting on this one to avoid more annoyances with broken needles. It's slightly less dense than most of my recent projects, but still has a nice drape thanks to the low-loft cotton batting (Warm & White or Nature's Touch White—possibly both—since I pieced it together from scraps in my stash).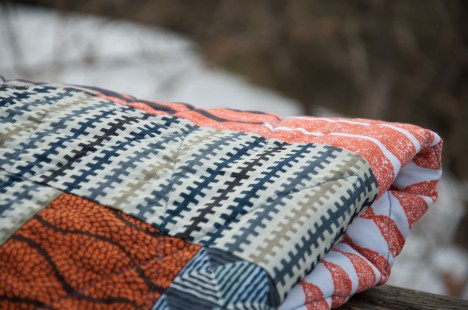 I wanted to make sure it was in his hands by his birthday (I'm notoriously late in sending birthday cards, but managed to send his two sisters' quilts on time last fall), so I machine bound this. It's not perfect, but it is secure and looks fine from the front.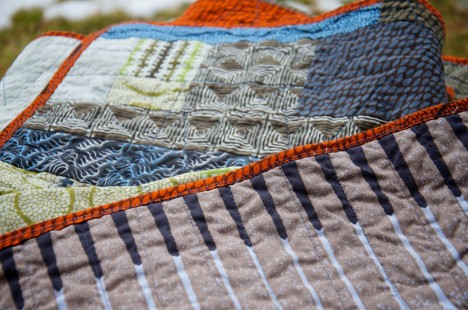 Now it's time to focus on a handful of baby quilts for recent births and others due soon!