When I explored Burlington pre-job acceptance, I found Stitched, a fabric shop in Williston, and fell in love. They had me at Tula Pink Nightshade showcased beautifully right as I walked in (one of three of her lines they had in the store!). Each new room in the old yellow house had some new print or designer that I'd previously only seen online. Despite what some might claim, that didn't seal the moving deal, but it was a strong mark in the 'pro' column!
So, of course I walked out of there with a bit of Tula: 6 FQs of Salt Water, tied with a bow.
Fast forward three months. I saw this gorgeous "Double Plus" design come up in the Modern Quilts Flickr group, and was inspired.
So, rather than go back to WIP finishing, I dove into a new project. It's very handy being able to just meander over to the fabric store to pick up more fabric from the line rather than wait for a shipment. Or dangerous, perhaps. C'est la vie d'une quilter.
Here's a sneak peak.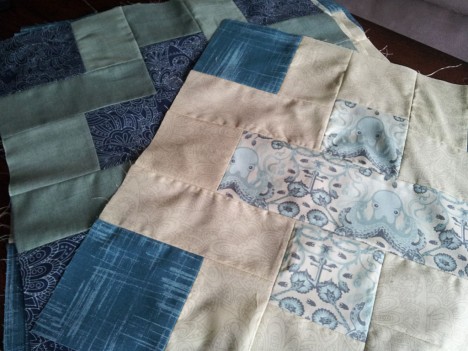 Three blocks down, 13 to go.