Is it just me, or has March flown by? Although I had two projects on my WIP list from last summer that I wanted to finish up by now, I haven't even touched them, and probably won't any time soon. I do have a short list for the next week (month?) or two, though—so this is about my madness, not anything else, if you were hoping for me to wax poetic about basketball or something.

Tula's Leftovers
I had a lot of fabric (and a couple kaleidoscope blocks) left over from my Tula Does Up the Walls in Pah-ree quilt. So, I made a second quilt (that's actually larger than the first…). It's just a bit of patchwork out of 7.5″ finishing squares.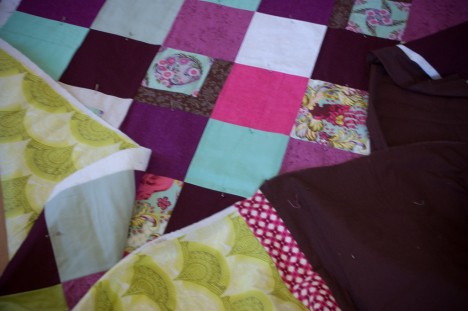 It's sandwiched, I just need to quilt it, but I can't decide how. I kind of want to do FMQ with the metallic thread I used on the other. But I kind of just want to use heavy-weight white thread to echo the seam lines. Maybe I can do both? But then what kind of FMQ? All-over meandering? Trying different things in the blocks? That's why I didn't start quilting as soon as I sandwiched it this weekend.
Flock Challenge
I'm so behind! I have to finish this by Friday, and my muse is nowhere to be found. Somehow I have to turn these fat eighths of Flock by Thomas Knauer: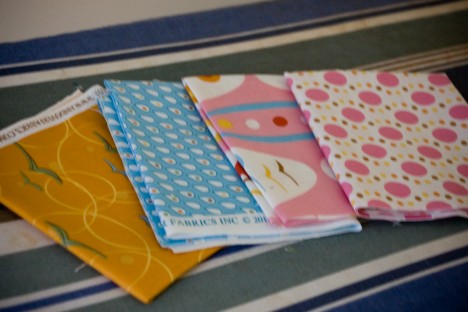 (and any other fabric) into … anything.
I think the lack of restriction is causing my inner creative to go all deer-in-headlights. Paradox of choice, anyone?
Wardrobe Addition
I decided that I want to make this (dress):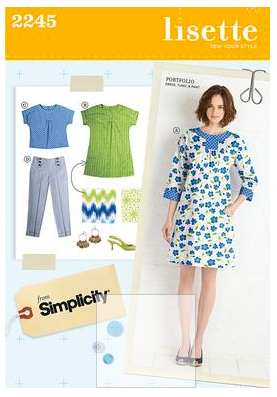 Out of this: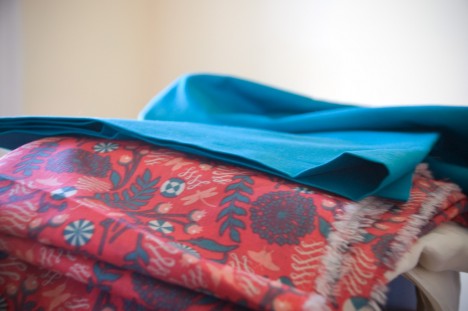 …to wear to my youngest younger sister's high school graduation. So, technically, I have until mid-May to finish it. But, it seems like a decent Easter dress, too, if we go visit the cousins in NJ, so that gives me a week, as I refuse to buy the pattern until it goes on sale this weekend. Probably won't happen, but I will complete it by May 19!
After I took these photos, I realized my dog licked my lens at some point. Ugh, saliva blur. Sorry.
…which reminds me that I still haven't taken photos of the 1812 ensemble. We've been too busy during daylight hours to coordinate dressing me up for a photo shoot. Sorry × 2!