The retreat last weekend was amazing—something I definitely plan on doing again. It was about 48 full hours of sewing, eating wonderful food, and a little bit of sleeping. I came home Sunday and promptly ended up with the Sinus Plague. So, after a day of work which I don't much remember on Monday (after work, I was in bed at 6, with a slightly awake break for dinner around 8), and a day in bed yesterday, I feel almost human again.
In the mean time, I'm on a wicked crunch to finish quilting the Amish quilt by Monday morning-ish (so I can mail it), and to make a sampler block by Saturday at 11am.
I did quite a bit of quilting for the Amish quilt while on the retreat (and a bit of un-quilting, unfortunately), but when I needed a break, this is what I worked on (shh, it's kind of a secret, and you'll have to forgive my hasty photo):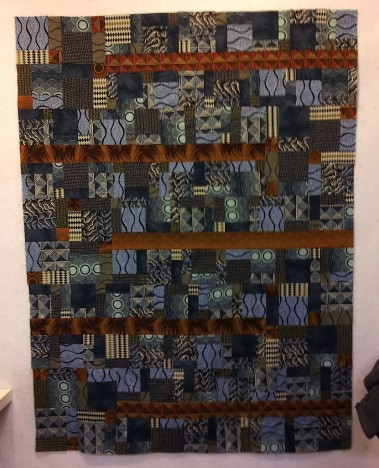 I'm so happy that my notebook scribbles turned out to be a great quilt top. Now I just have to figure out how to quilt it. It's going to have a Minky back, so I don't want to do anything too dense. The ladies at the retreat with me suggested circles; I like that idea. But, there's still time to ruminate considering the timeline I'm on for other things.
The best thing about that quilt is that I still have plenty more fabric to make something else. I do love it so.