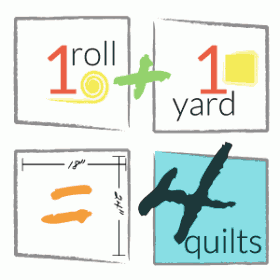 The premise of this week is simple: I'll show you how to make four small cuddle quilts out of a single roll of 2.5″ strips and a yard of cuddle fabric or fleece. The final quilts measure 18″×24″, so these are meant for comfort more than sleeping under. Today, we'll cover what you need.
---
While I keep saying 1+1=4 (that is, 1 roll + 1 yard = 4 quilts), in practice there are a few caveats and qualifiers for what you need:
24 2.5″×WOF strips, also known as Jelly Roll strips. The simple way to get these is to buy a fabric roll.
Not all rolls are the same. If you have a roll with fewer than 24 strips, you can make three quilts using 18 strips. If you have a full Jelly Roll by Moda (or any other roll with 40 strips), you can make six quilts, but you'll need additional backing fabric.

You don't have to buy a pre-cut roll to make these quilts: you can cut your own strips out of stashed yardage, which is what I did. My examples will show the quilts being made from Thomas Knauer's line "Savannah Bop", which is an Andover fabric line, and Andover does not have precuts for sale.
1 yard of Minky/Cuddle Fabric or Fleece
Most fleeces and Minky-type fabrics are 58/60″ wide—you will need this extra width, so make sure your fabric isn't 44″ wide like standard quilting cotton.

To make the six quilts out of a Moda roll, you will need 1.5yds of backing fabric.

Creating all four backs with one yard requires piecing one of the backs—just a simple seam up the middle, nothing fancy. If you do not want to piece the backing, you will need 1 1⁄8 yards.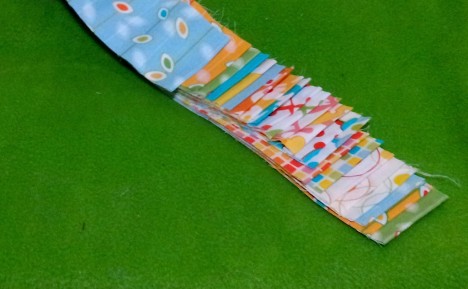 Optional: 1 yard of batting, or whatever other amount/scraps that will allow you to cut four 18.5″×24.5″ rectangles (or six, if making quilts from a full Moda Jelly Roll).
You do not need to use batting with these—particularly with fleece backing. But, if you want to, I will give instructions for using it.
So that's it: gather your supplies and check back tomorrow, when we'll start sewing!
This post is part of a series on making small cuddle quilts for charity. My finished quilts will be donations to the 2012/13 service project being sponsored by the Quilter's Consortium of New York State. If you're in a NY quilt guild that is a member of QCNYS, contact your consortium rep to learn how to donate (and tell your guild or club about this series!). If you are not a member of a participating guild, but would still like to donate send me an email and we can figure out how to get the quilts to the right place.