First off, it is Sew Mama Sew giveaway day but I didn't get my act together, so I have nothing to give away here. But you should check out all the great blogs and their giveaways!
What I did get started working on this weekend is organizing my sewing room a bit. I need more shelves. Here's a start: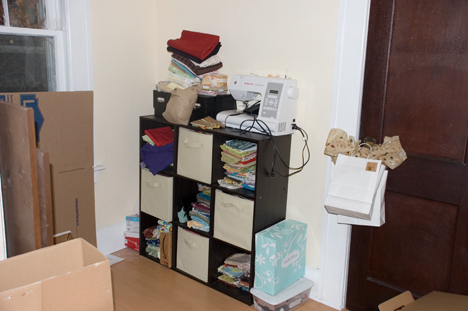 Why is my sewing machine sitting up there forlornly? Because, because, because… I brought this home Friday night: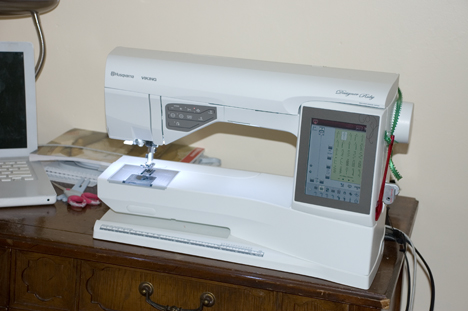 !!!!!!!!!!!!!!
I have eyed it for over a year. My Singer gives me as many headaches as it does decent stitches, especially when I try to FMQ. So, since we finally closed on the house and the local Viking Gallery brought back their Black Friday sales this weekend, I finally bought one. I love it. Love it, love it, love it. I can't show you anything I worked on this weekend though, because it's all Christmas presents.
A lot of what I love so far is little stuff (comparatively). The stitching is so much smoother and consistent. When I back-stitch, it doesn't take a stitch forward and then start going back, it just goes straight back (and likewise when I start going forward again). And having the machine cut threads for you at the end of the seam? Most awesome thing ever (until I find the next most awesome thing ever, at least).
---
In house news, not that it was unexpected, but when you buy a house that was built in the 1920s, it seems like your honey-do list grows and grows with every passing moment.
When we moved in, we realized that the sconce on the stairway landing wasn't working, and replacing the lightbulb didn't help. My best guess is that the light fixture is circa 1935 or so, meaning it's not unsurprising it finally decided to give up the ghost. Plus, it just wasn't our style: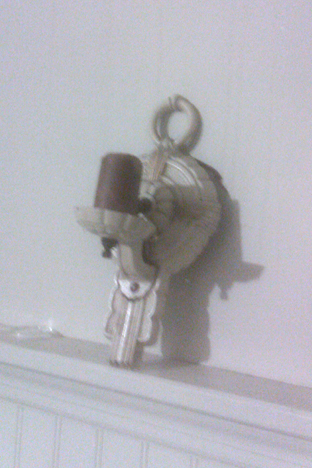 So, yesterday, armed with a shiny gold fixture with no glass that we found in a drawer in the bathroom closet when we moved in, a can of spray paint, and a glass shade that we found on the clearance shelf at Lowe's for $1, we replaced it, and now have a working light in the stairwell, all for under $6! (Which is awesome, since I just spent about nine-hundred times that on a sewing machine. And by we, I mean that I intended to do it, but took a nap, and woke up to Carl having mostly completed the entire project.)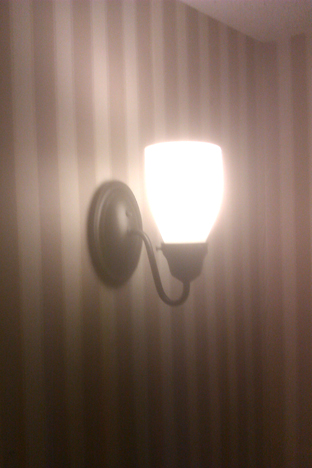 What have you been working on? I promise that come the last week of December/early January, you'll be seeing a lot of posts about what I've been sewing the past two months…