I mentioned in my last post of project updates that I am working on a dress for a wedding (now little more than a week away. Eek!). My original plan was to use the ivory/gray linen I have sitting in my stash, but kept being bothered by how bland it is for such a happy affair. The only other usable (for the style/pattern) length of fabric I have is some very bright white ramie linen. A conundrum.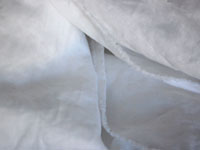 Enter my idea to dye the ramie to a wedding-appropriate, summery color. I've never attempted to dye anything before (tie-dye t-shirts in my youth excepted). I didn't want to sacrifice any of my kitchen pots for the endeavor, and didn't want to run the risk of staining the bathtub in our rented apartment, so I researched washing-machine dyes. The type I heard best things about is Jacquard iDye. So, I picked up a packet of their lilac color and set out to dye 1.5lbs of white ramie linen.
The dye
Jacquard iDye has a pretty decent delivery idea: a small, water-soluble packet that you toss into the washer, add salt or vinegar depending on the fabric, and let the washing machine agitate and rinse the fabric. No complicated measuring or mixing, and you can dye 2-3 lbs of fabric. (In fact, I probably dyed a bit too little for the full pack. That's a downside: no way to reduce the amount of dye being used for a smaller batch.)
They have 30 different colors for natural fibers, and 8 for polyester/nylon dyeing (iDye Poly). Presumably, you could do plenty of mixing for larger batches to create your own colors. When dyeing poly mixes, you choose a natural color and the closest match from the poly set and use both—presumably mixing won't work as well there since you're targeting the different fibers.
For dark or very vibrant colors or natural fiber/polyester mixes, Jacquard recommends using the stove and a big pot rather than the washing machine. Since I didn't want anything too vibrant or dark, the washing machine seemed like the way to go. The higher heat you can get with the stovetop method also makes the dye more color fast, in theory.
Availability
I, like usual, had a 40%-off coupon to employ at Joann Fabrics, and they stock it. So that's where mine came from. You can also get it from Amazon, Dharma Trading Co., and likely many other craft shops.
If you're concerned about color-fastness, they also sell an iDye Fixative that is supposed to help. I didn't see it at Joann, but it's on Amazon and Dharma. There's also a color remover packet available.
What can I dye?
Any natural fiber can be dyed with iDye. They have iDye Poly for polyester/nylon fabrics, and suggest that you use a packet of each when working with blended fabrics. Since you can use the washing machine or the stove top, you should be able to dye pretty much anything (for instance, wool would likely felt if you put it in the machine, but the stove should work fine).
Do I add salt or white vinegar?
For plant fibers you use salt. Plant fiber-based fabrics include cotton, linen and rayon. This category also includes the ramie I used and bamboo.
For animal fibers you use vinegar. Animal fiber-based fabrics include wool and silk.
For poly mixes use the one appropriate for the natural fibers in the mix.
For plant/animal mixes (cotton/silk, lindsey-woolsey, linen/silk), Jacquard comes off as rather indifferent and unhelpful. Their suggestion:
It's not critical—either the salt or the vinegar will work so just pick one.
Don't add either, but use substantial heat in the dyebath (stovetop method).
Do 2 separate dyebaths—one with salt and one with vinegar. This will probably be best for darkest colors.
Excuse me, not critical? Then why are we adding it in the first place? Clearly there is a reason. A caring company would explain that and give a thoughtful answer. Hmph.
Melodramatics aside, the salt and/or vinegar combined with the heat help set the dye (semi-)permanently and improve the wash-ability of the dye job. So, likely results if you follow their suggestions:
You're splitting the color-fastness. If you use salt, the plant fibers will be more color-fast, while the animal fibers will be less; with vinegar, vice versa. Over time, certain threads will fade faster than others. It could give an interesting new dimension to your dye job or just look like crap. It's a gamble.
Sure, you can leave it out, but that will decrease life of the dye job (more heat should help, but not to the same degree as heat and salt/vinegar).
We have a winner, and not just for darkest colors. This solution adds the color-fastness to both types of fibers. However, the tradeoff is that it is more expensive and takes longer. With dark or vivid colors, fading is more obvious than it is with lighter colors, so this is definitely the right approach there, but there's nothing lost if you take this approach with the lighter colors as well. Keep in mind that two dye baths will give a more intense color, so you'd need to reduce the time spent in each bath unless you want a very bright or dark color.
The results
I had some concerns about whether the temperature of our water is hot enough for this application. It's really not that hot most of the time (old house). But, I put the washer on its longest agitating setting and the ramie I used took the dye like a dream. I'll have to wait and see how color-fast it is in the long run though. Heat is an important part of that.
The coverage
The fabric is all the same color, no splotches.
The color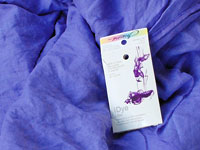 I was a little concerned when I pulled it out of the washer; it looked extremely blue. After drying, the shade mellowed out to a lilac-ish purple. It is a little closer to the blueberry side of purple than I expected based on the package graphics. Perhaps they need to have their print shop color correct the graphics. In hindsight, I think I would have preferred using the violet dye and leaving in the dyebath for a little less time. I prefer a reddish purple to a very blue one. It looks better with my skin tone.
My "set it at the longest cycle setting and let it go" timing method worked out well and I'm happy with the intensity of the color, but you may want to be a little more scientific with knowing how long your agitation cycle is based on the washer you have and the color you want.
The washing machine damage
Just kidding with the header here. Although I wasn't about to sacrifice a load of whites to see exactly how little dye was left in the washing machine, I ran a load of towels and darks through and a bit of white cotton, and I'm happy to say that there's no lilac tinge.
Color-fastness
I'll come back and edit this once I get a little more experience with how the dye job holds up as I use the fabric, but a couple of quick observations:
The water ran clear when I rinsed the fabric after the dye cycle. No lilac water running that I could see.
There was an awful lot of bluish-lilac-colored lint in the lint trap after I dried the fabric. That's is somewhat disconcerting since ramie is not a linty fabric… it looks like some of the dye bled onto whatever lint was sitting in the machine after the last cycle. Although, I suppose it's possible that the lint was that color because of whatever had been dried in the dryer previously. We do share it with the tenants in the other apt.
The verdict
For simple, quick applications, this seems like a great solution. Especially for a dyeing novice like me. I don't have the time to jump into the dye arts right now, and until I decide to take the plunge and go more indepth with dyes, I think that this is reasonable for occasions when I can't find the color I want.
Plus, I still have about 6 yards of that white ramie left. I don't know what I'm going to make out of it yet, but it's possible that I'll try this again. It does make those $50 15-yard bolts of ramie linen at Fashion Fabrics Club seem even more interesting now. I was hesitant to buy more considering the limited colors available (there's only so many uses I have for red/black/off-white/white linen in 15-yard chunks), but based on my opinions of the fabric and the cheap price, if I can dye it this many colors, it's an awesome source. I talked about it at length in my review of the ramie bolt, but I still think that this really is a much higher quality fabric than the other cheap linens available, and with most of the same qualities and draping as flax-based linen.