I've never quilted before. Ok good, just so we're clear on that.
I already had it in my head to start quilting before this project; the goal was to make a crib quilt for my best friend in the world's bun-in-the-oven. That sounds pretty easy, since it's a relatively small quilt. But then I got an invitation to my little cousin's wedding. I thought a homemade quilt would be the perfect wedding gift, and considering that the baby isn't due until Nov. I have plenty of time to fit in another quilt first. [visualize some suspenseful music here, if you don't mind]
I began the task of looking at a million different quilt block patterns and quilts. So many of them looked interesting, and of varying degrees of complexity, but I wanted one with meaning. So I after a long search, I decided to use the Altar Steps block I found on Quilter's Cache. The site creator's comment aside, I thought it was an interesting design and would be good for the occasion of a wedding. But, I wanted to learn more about the block itself, so I started searching around for more info. Unfortunately, there seems to be nothing out there about it. I couldn't even find that particular block on any other websites. There was a variation to be found in a few places however. Soldiering on, I decided to make a quilt pattern using both variations I found with some sashing in between, and the (un)creative title Sashaying the Altar Steps. I'll show you the blocks for now, but I'll leave the full pattern for later, just in case my cousin or his fiancée stumbles across this. (Ahem, dear cousin and future cousin-in-law: please stop reading for the next month if this is true.)
Here are the individual blocks: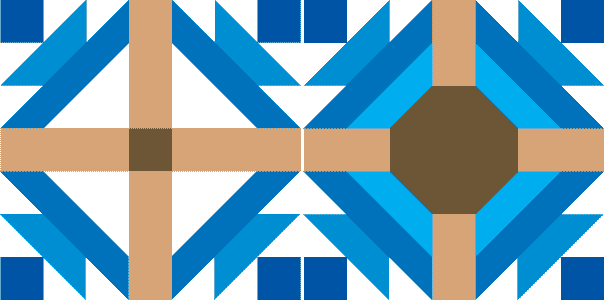 And here are the fabrics:

More info about Altar Steps
Aside from the sources I mentioned above, I have found very little information about this block. The Quilter's Album of Patchwork Patterns has a single mention of a block called Altar Steps, but the pictured pattern is Steps to the Altar—very different.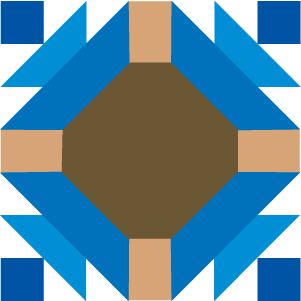 5,500 Quilt Block Designs has an Altar Blocks entry that is similar to the Block Central design. It cites the block as being published by Prudence Penny. Encyclopedia of Pieced Quilt Patterns also lists this block and attribution, adding the date—1920. These are both laid out on a different grid than the Block Central block (and each other), and are missing one of the trapezoids in each corner in favor of a larger central octagon.
Both books list one block (published in 1897, per The Quilter's Album) that is similar to the Quilter's Cache block, called Dove in the Window, but it lacks the trapezoids in each corner in favor of squares and triangles (see below). Two additional patterns, West Wind and Sailboat, date from the mid 1930s and resemble variations of the corner motives from Dove in the Window, from which Altar Steps could have evolved (or evolved concurrently with Altar Steps).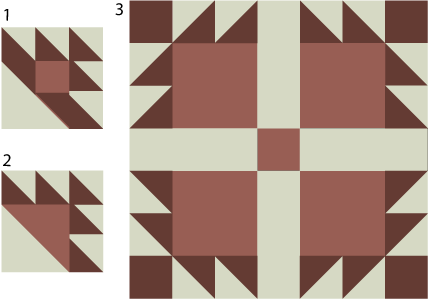 For now I still have no clue about the origin of the Quilter's Cache block or when it first appeared. It could be a lazy-machine-piecing evolution to the other block, removing the octagon and its required set-in seams, but that's just a supposition on my part.
I welcome any additional info you might have about this block—either variation. If you know more, please comment. In the mean time, stay tuned for more updates as I begin sewing the blocks together.
Altar Steps Block Resources
Altar Steps Block on Quilter's Cache. Last accessed 6 Jul 2010.
Altar Steps Coloring Sheet on Block Central. Last accessed 6 Jul 2010.
Another variation similar to the Prudence Penny one (with yet another trapezoid) appears in the book Book Math by Cindi Mitchell, published in 2003 by Scholastic Inc.
5,500 Quilt Block Designs by Maggie Malone, published in 2005 by Sterling. Preview on Google Books Last accessed 6 Jul 2010.
The Quilter's Album of Patchwork Patterns: 4050 Pieced Blocks for Quilters by Jinny Beyer, published in 2009 by Breckling Press. [The best research I've found so far. I'd love to own a copy of this book. For now, I must be content with the one I borrowed from the library.]
Encyclopedia Of Pieced Quilt Patterns by Barbara Brackman, published in 1993 by American Quilter's Society. [Almost as good as Beyer's book, but no color.]