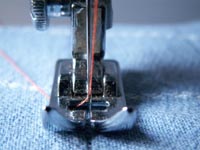 In my post about my machine being out of time, I counseled again and again on the need to use the right sewing machine needle for your project. However, I never answered the question of "What is the right sewing machine needle?". All the numbers on the needle package can get quite confusing, as are the distinctions such as "sharp," "ballpoint" and "universal." Read on to learn what you need to know to choose the right needle for your project.
Size
Using the wrong size of needle can turn a great project into a complete mess. A needle that is too heavy can leave gaping holes along the seam line, while a needle that is too thin will end up bending and breaking. You'll end up with puckered, poorly-stitched seams that look terrible.
Sewing machine needles are labeled according to two systems: American and European. American sizes range on an indeterminate scale from 8-19, while European sizes range from 60-120 and are based on metric measuments (a size 60 needle is .6mm in diameter). Most needle packages list the size in both systems, generally with the European size first, like 60/8. Occasionally you'll see the American size listed first—just remember that the smaller numbers are American and the larger are European system.
The rule: the smaller the number, the thinner (lighter) the needle. But even knowing this, picking a needle for your fabric can still be tricky. Hopefully this table will demystify the numbering system:
Sewing machine needle sizes in the American and European systems
American
European
Suggested fabrics
8
60
Chiffon, organza, gauze
9
65
10
70
11
75
The closest thing to a universal size: linens, cottons, jerseys, medium-weight polyesters, etc. This is the size most home sewers use for everything.
12
80
14
90
Suede, vinyl
16
100
Denim, canvas, upholstery
18
110
19
120
Extremely-heavy fabrics
Once you've chosen your needle size, you should always test on a scrap of the fabric you intend to use. If the stitches aren't smooth, you may need to use the next size up or down.
Don't forget to consider your thread as well. If you're using a heavy thread on a thin fabric, you'll need a heavier needle than you would otherwise use. The thread should pass through the eye of the needle with ease. If the thread is too large for the eye of the needle, you'll have issues with tension, as well as weakening the thread—often to the point of fraying it and breaking it mid-stitch.
Type
Size is not your only consideration when it comes to choosing a needle. You must also take into account the type of fabric and type of stitching you plan to do. There are three basic needle types:
Sharp

Sharp needles, as the name suggests, have sharp points that are good for piercing the fabric smoothly. These should be used on woven fabrics, particularly silks and mircofibers. They are also called Mircotex needles

Ballpoint/Stretch

Rather than having a very sharp point to pierce through fabric, ballpoint needles have a rounded tip that allows them to slide between threads in knitted fabrics. These needles are used on knits in order to keep from causing runs or breaking the threads. Stretch needles are similar to ballpoint needles and are made for use with lyrca and other stretchy knits.

Universal

Universal needles fall somewhere between sharp and ballpoint. They are meant to work for most fabrics the home sewer will encounter.
In general, universal needles will suit most projects, but it is good to use one of the other two for the best-finished project, especially when you're not using a medium-weight woven fabric.
In addition to the three main types, there are some specialty needles available for specific applications:
Denim/Leather needles

These two needle types are heavier than normal needles and are made to pass easily through the heavy fabrics. Leather needles in particular have very sharp, shaped points that cut rather than pierce, so you may need to use a sharp/Microtex needle on synthetic leather.

Embroidery/Top-stitching/Metallic

These needle types have larger eyes and slightly different shaft/scarf/eye shapes to better accommodate the heavy, sometimes fragile, threads used for specialty applications.

Quilting

Quilting needles have a tapered shaft that helps sew through multiple layers of fabric with greater ease than a normal sharp or universal needle.

Wing (Hemstitch) needles

These needles have wings on the side of the needle that create a large puncture hole in the fabric. They are used for hemstitching and heirloom sewing to create cutwork-like designs.

Double (Twin)/Triple Needles

Double (and triple) needles have two (three) needles attached to a single shank. They are used mainly for decorative top stitching or hem/seam finishing, and come in different widths and point types (ballpoint, sharp, universal, denim, etc.). These needles may require a different faceplate, so be sure to check that before you use them.
You should use the appropriate specialty needle if possible. For instance, while a 16/100 Universal needle may be able to sew through denim, a denim needle will be better suited for the project. For more information on these needle types and troubleshooting tips, check out this overview article at Threads magazine.
Changing needles
One mistake I made often when I was first learning to sew was thinking that I needn't touch my needle until it broke or I needed a different size in the machine. For a long time, no one told me otherwise. Now I know better: needles are a consumable product. You should be replacing your needle on a regular basis (and throw out the old one). There's no hard and fast rule, but for the most part, you'll want to replace the needle for every project or after 8-10 hours of use. Over time, needles get dulled and slightly bent, reducing their effectiveness. An ineffective needle makes bad stitches.
More about needles
Almost all household sewing machines use the 130/705H needle system. This is great for the consumer, because it means you can go to most any craft/sewing store and pick up a package of needles that will fit your machine—without being tied to a specific brand. Sometimes you'll see additional letters that correspond to the type of needle, such as M for microtex or Q for quilting. The 'H' in the system designation stands for Hohlkehle, which is German for "chamfer" or "with scarf"—referring to the cutaway groove on one side of the needle shaft, called a scarf. This scarf allows the bobbin case hook to intersect with the needle thread, forming the machine lockstitch.
Now that you're well acquainted with sizes and types of needles, make sure you master changing the needle on your machine. It's generally a simple thing to do, and with practice it shouldn't cause much more of an inconvenience than threading the machine. Double check your owner's manual, but a good rule of thumb is to always make sure the scarf is pointing toward the back of the machine, and make sure the screw holding the needle in is well-tightened. A loose needle will end up falling and breaking.
Do you have any needle wisdom to share?