Despite the lack of updates, I haven't entirely forgotten about that giant Steampunk outfit plan that I'm supposed to be working on. I finally took a stab at putting the corset together this weekend, in a form slightly modified from my original plans, but one that should still work.
In May, after having C&K try on the mockup, I knew I needed to modify it to an underbust.I drew out the new top while they were wearing it, and then ripped apart the mockup and modified my pattern pieces according to the drawn lines. The other major modification is that the budget got the best of me and I decided to forgo using a traditional separating busk in lieu of hooks and eyes. I found these great filigree ones on sale, so there will be four of them, and likely a few more hidden ones. This is not going to be used for tight lacing or everyday wear, so I think it should hold up.
I have the fashion fabric and drill interlining all pieced together for both sides (one shown here, with some bones in place). I'm now in the process of sewing in the boning casings. After that will just be the lining and grommets, and deciding on what to lace it with.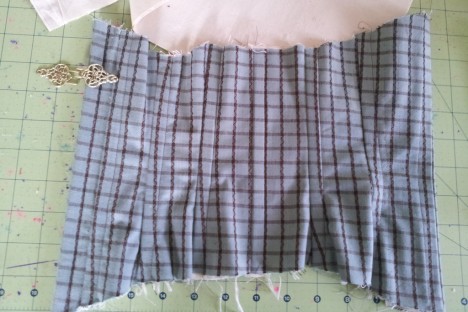 I'd completely forgotten that I had this homespun in my stash. When I uncovered it, the whole corset look clicked in my head—I like it much better than the other options I'd laid out (and C&K said that they had no preference at all).
It's a bit annoying to match the lines, and it's by no means perfect, but there aren't any absolute glaring mismatches. Luckily I have plenty of fabric so that I needn't be hampered by a restrictive cutting layout.
I hope to finish it this week so that I can get started on the other torso-covering pieces. It's September already!
Also, here's a look at the dog modification I made from Simplicity 2613 now that it's been delivered: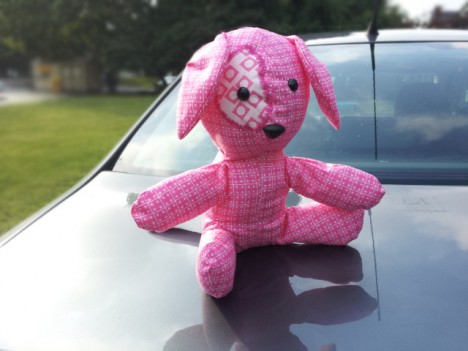 The concept needs work, but I like it (and so did the recipient!).