I finally gave in and purchased a thread rack to organize my spools on. Previously, I've kept them in a drawer (mostly), but have ended up buying the same spool more than once, or losing spools I know I've purchased. Looks like I underestimated my stash, though, huh?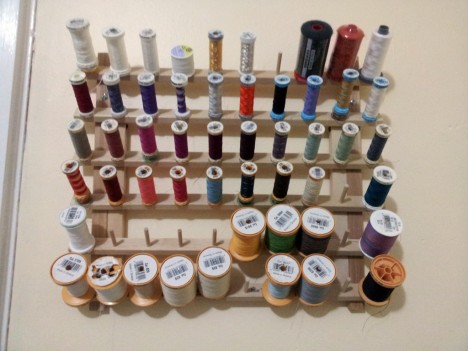 It also has the advantage of allowing me to keep the bobbins with the spools, in cases where I've wound one to match (bobbin storage is its own beast that I haven't tamed yet).
I think there are still some spools floating about the room, and in my purse, and who knows where else in the house. It'll be full in no time. There's not much organization—specialty threads on the top (fusible, invisible, glow-in-the-dark, metallic, wool), rayon, silk, poly sew-all, cotton, and then all my giant neutral spools.
There's also still a few odd spools of thread I've inherited, bought while clearly out of my mind, or when wanting really cheap thread for one reason or another (along with some skeins of embroidery thread and bobbins from my old sewing machine) in a box. I don't see the need to keep them out, since I don't have much use for them (nor will I accidentally buy a second spool).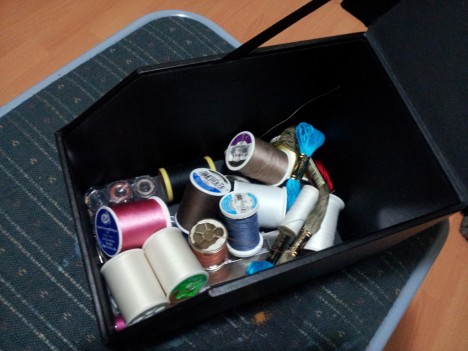 It was clearly about time to sort through my thread though… I found plenty of spent spools, ready to be carted about to finish up hand work.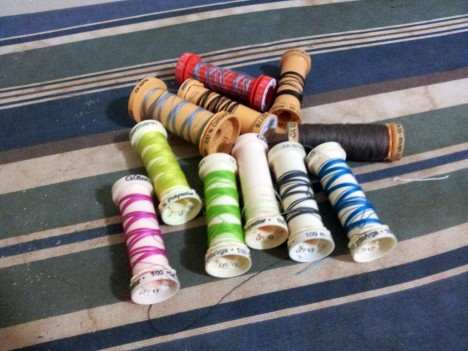 The full one isn't exactly spent (captain obvious), but the dog got ahold of it and crushed it, so I don't trust it to go through my machine very well (if it would even spin freely). There are a few of those about, sadly, stashed away with various hand sewing projects. I keep the colored spent ones about for very small projects where the color doesn't quite matter, too, but they don't last very long, so it has to be quite small.
Speaking of thread remnants, I also found a handful of almost spent bobbins.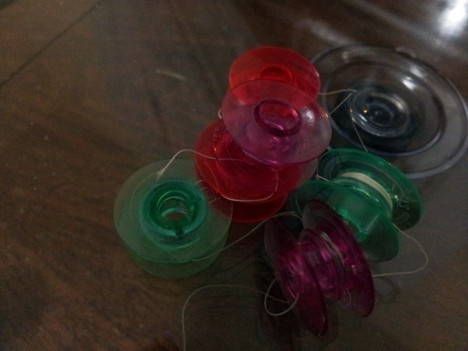 My machine claims these are empty, and although I could still make them work until they run out, running out mid-seam is obnoxious anyhow. That said, these are perfect to carry around when trying to finish up binding—no need to cart around a whole spool. I can usually get two or three needles' worth of thread, which is plenty for a session or two of binding. No wasted thread, and my bobbins are free to be refilled—perfect.
How do you organize your thread stash? Do you have any clever uses for the bobbin remnants and almost empty spools?