I feel like I'm stuck in a cycle of "meh" projects—ones that are sufficient, but not awesome. This is another one of those, and I think all the blame lies on the blackboard cloth element.
The quilt club is transitioning to having members make their own name tags this year. So, in order to give new members a bit of a grace period while still allowing them to have something with their name on it, I am making up a few new member name tags to lend out at meetings. At first, I was just going to make a window into which we could slip a bit of paper with their name on it, but then my imagination got away from me and I decided to try out Chalk Cloth.
Then, my wallet brought me back to my senses and I went for the off-brand blackboard cloth available from the local JoAnn, since I only needed an eighth of a yard or so and the LQS only carries the expensive stuff in one yard cuts. That might be my first problem?
But anyway, I put my embroidery functionality, some twill tape, and a few charm squares to work last night, and ended up with what could be a pretty cool project: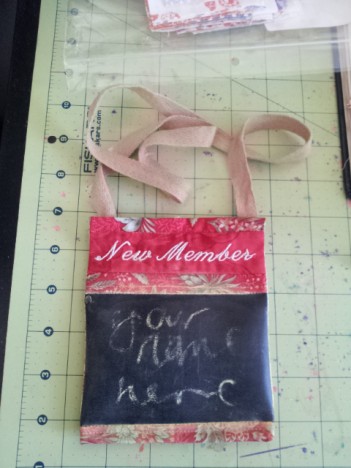 But notice all the yellow dust staining the edges of the fabric? Well, prior to sewing, I primed the cloth according to the directions (rub chalk on its side both vertically and horizontally, wipe, repeat, wipe (repeat again, for good measure), and you're good to go), but somehow between priming it and finishing the sewing part, it became unprimed (with no heat or water involved).
So, I tried to reprime, but it just doesn't work as well once it's all put together.
So, I don't know if I should continue in this vein or not. Perhaps I'll try breaking the chalk so that it's shorter, wash out the stains, and try to prime just the middle of the cloth.
But in theory, it is a pretty cool badge that can be worn around the neck, or have the strap tucked in and be pinned on instead.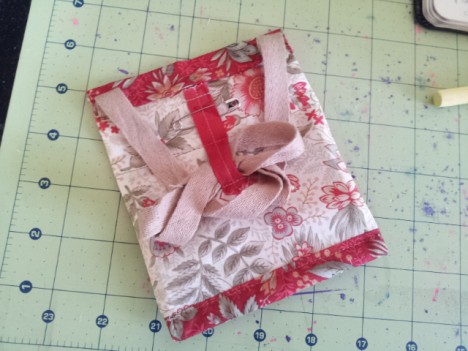 I have another three weeks to play around with the idea. We'll see what happens. (Also, I should probably get around to making my own…)
Do you have any experience with using Chalk Cloth or blackboard cloth?