Speaking of scraps, I made a (very small) dent in mine yesterday.
First, we've started Cathedral Windows (on machine) at Sew You Want to Quilt, and we made one using one possible technique in class yesterday. Since I haven't decided what I want to do for my project, I just grabbed some coordinating scraps that were large enough, and ended up with this pincushion/pattern weight/thing-that-takes-up-space: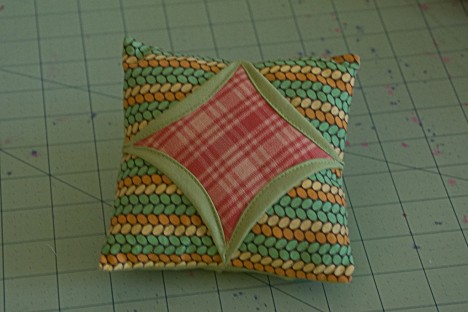 Plus, I stuffed it with all those teeny tiny scraps and slivers from squaring up fabric, instead of using fiberfill. I'm amazed at just how much can fit inside something so small. So, that made a very, very small dent in my scraps. It's about 5.5″ square.
It was way easier than I expected (although somewhat slow going). The major difference between machine-done and hand-done is the obvious machine topstitching, although had I tried a blanket stitch with invisible thread, it might be less obvious.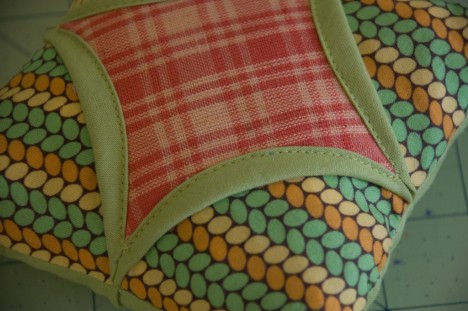 Here's a video demonstrating the technique we used:
I also started on one of my very long-term projects, a timeline of my quilts using leftover 2.5″ squares. Not every fabric will be represented for each quilt, but a good selection from the first two quilts is all set (baby and bargello):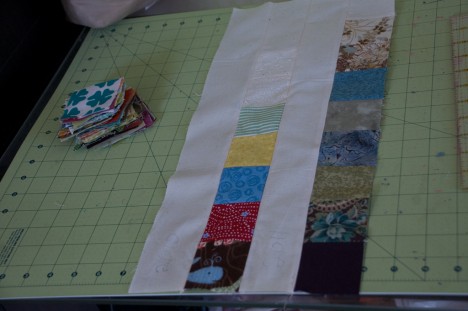 The two blank strips will eventually have years embroidered on them… 2010, during which I made only one quilt (my very first), then moving on to 2011, for which I still have many strips to make.
So, it's a small step, but a step none-the-less.
Am I the only weirdo out there making some concentrated effort at a "meta" quilt, so to speak?