On my latest quilt, I machine-sewed the binding rather than hand-finishing like I've done with most of my other quilts. It has its advantages: rather than spending the weekend (and maybe longer) sewing almost seven yards of binding to the back of a quilt, it was finished in fifteen minutes (maybe fewer; I wasn't watching the clock). It's also stronger and will presumably hold up longer—my machine sews many more stitches per inch than I do by hand.
The disadvantage is aesthetic. I like how hand stitching hides the stitches completely (well, if you use a ladder stitch like I do). But, well-executed machine binding means that the stitching is near-invisible on the front, and very evenly-spaced on the back—which doesn't bother me aesthetically, or at least not enough to justify the extra hand-sewing time on most quilts.
So, really, the disadvantage is that my machine binding highlights a skill deficit; I am not very proficient at sewing and folding my binding so that there is an even overlap all the way around the edge of the quilt. It's not obvious when all of the stitches are hidden, but when the stitches are visible you can see the areas where the binding wraps to the back more deeply or not.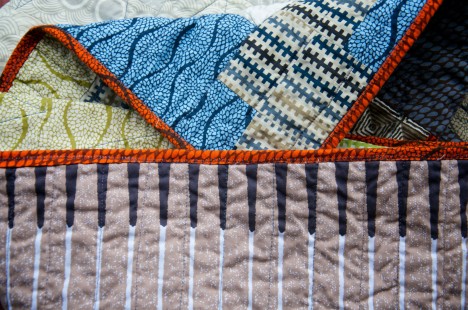 I compensated on this quilt by using a blanket stitch, which means it's more obvious on both sides of the quilt, but the stitches securely caught all edges of the binding. Some parts were quite even, but others weren't. One corner was especially shallow. Using fusible web to secure the binding to the back before I sew (rather than pinning) helps to some degree, but not completely.
In 2014, I want to focus on my binding skills. Whether I machine-bind more or not, I want to keep my binding width consistent on both sides of the quilt. Then, I can make better choices about when to use either technique.
Do you have any tips? What is your preferred binding method?