My friend that also went on the retreat back in February pointed out that I make all these cosmetic bags, yet mine were in one of those free-with-purchase "gifts" from a department store cosmetic brand. She quipped about the "shoemaker's children" and how I should get around to making myself one. I still haven't made a cosmetic bag, but I did finish up another UFO for myself.
Back in November, I mentioned paper piecing a small block to go on a bag for my EPP and other handwork projects. I made the bag exterior, and let it languish on my shelf for… eight months now. So, this weekend, I decided to UFO bust and dragged out the bag.
The problem with letting a project that you dreamed up and didn't write any notes down about languish for months on end is that you have no idea where you were going with it or what the measurements were. Somehow, I managed to cut out a lining of the right size, and managed to sew it in without too much trouble.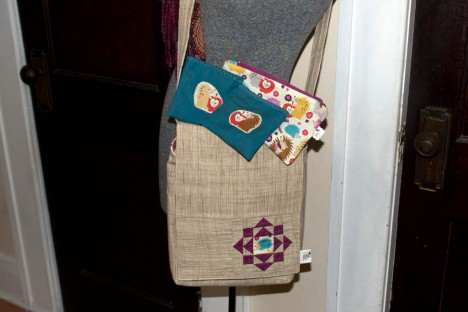 I even made a zipper bag and two Velcro pouches with leftover fabric—great for keeping bits of fabric separate, and to act as thread catchers, etc. The largest scrap I now have of the hedgehog print is a 2.5″ square—talk about efficient cutting (completely by luck)!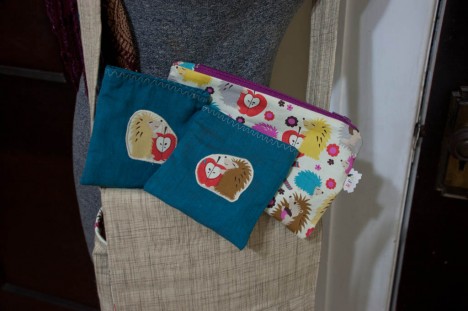 The outside has a few pockets, and a small needle/pin section.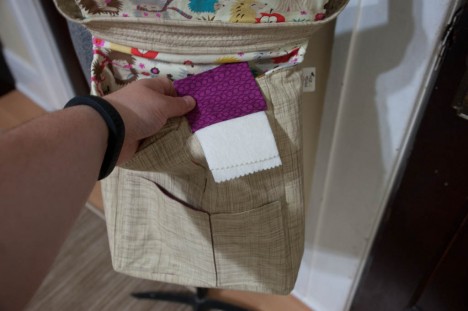 And the inside has a pocket as well, with an elastic top to help keep things inside.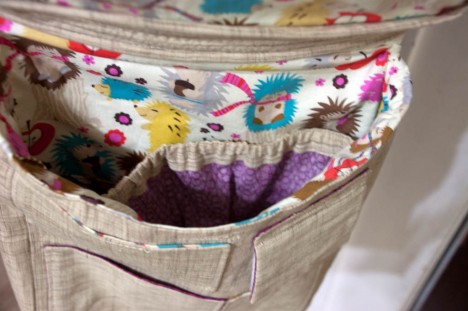 I don't know what I was thinking with the handle, but without the strap where it is, the front is too long for the bag. I added a hook that keeps the flap connected to the top of the front by way of a button-hole, while still allowing access to the pockets, but I may rip off the strap and affix it to the sides at a later date.
For now, I just need to load it up and see how it works. It's large enough to carry around my iPad and notebook, so it may work as a purse, too.
Hooray for finished projects! I've actually managed to empty out quite a few of my UFO/WIP cubbies lately (at least it seems so—although some of it has been by condensing things into other locations, I think). I think that means my project ADD will kick in again soon. 🙂
Have you managed to finish any UFOs or WIPs recently?