Things have been quiet here. Everything in non-sewing life caused me to retreat from sewing for a solid two months, somehow. So, with my guild's first ever retreat quickly approaching (this past weekend), I needed to get my sewing mojo back. The guild provided the perfect opportunity: a few mug rugs to give to women from the larger traditional guild in the area who provided space and support during their semi-annual retreat for us to do our own thing. I managed to pull three together in the week before the retreat.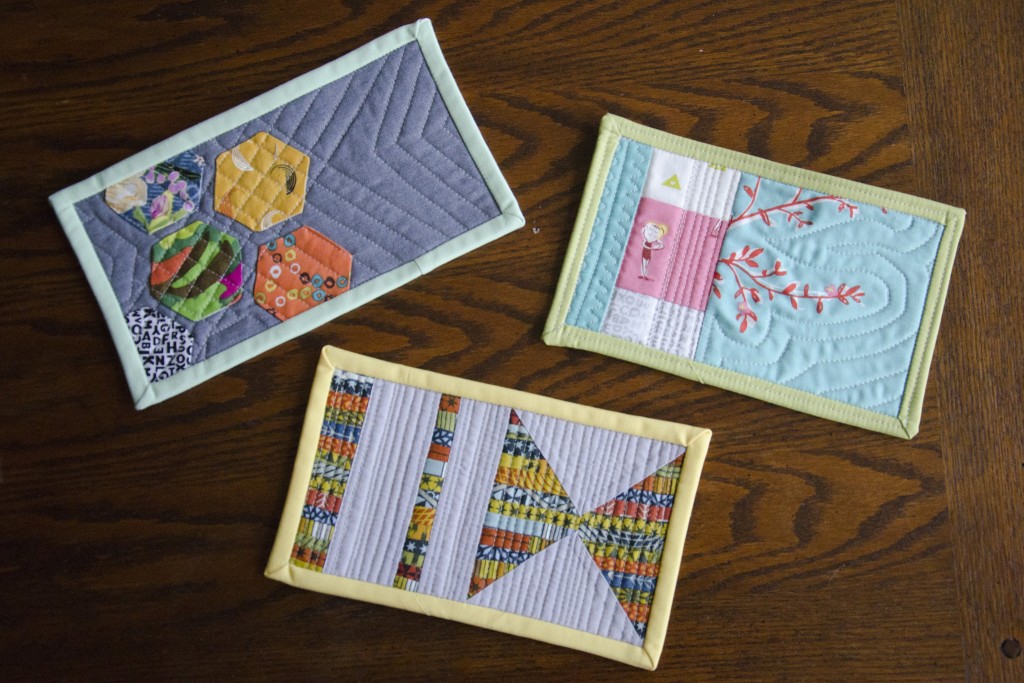 #1: A scattering of hexies
I had a mini charm pack promo pack (~10 2.5″ squares?) from Windham sitting on my shelf, and was inspired by some of the hexie mini quilts that have been going around. I used plain gray fabric to turn out hexies, stuck them on to a background with spray baste, then used the quilting to secure them. The binding was leftover from a previous project. It's a strange color scheme, but I thought it worked out well. I wish I'd ripped and fixed the top right corner, though.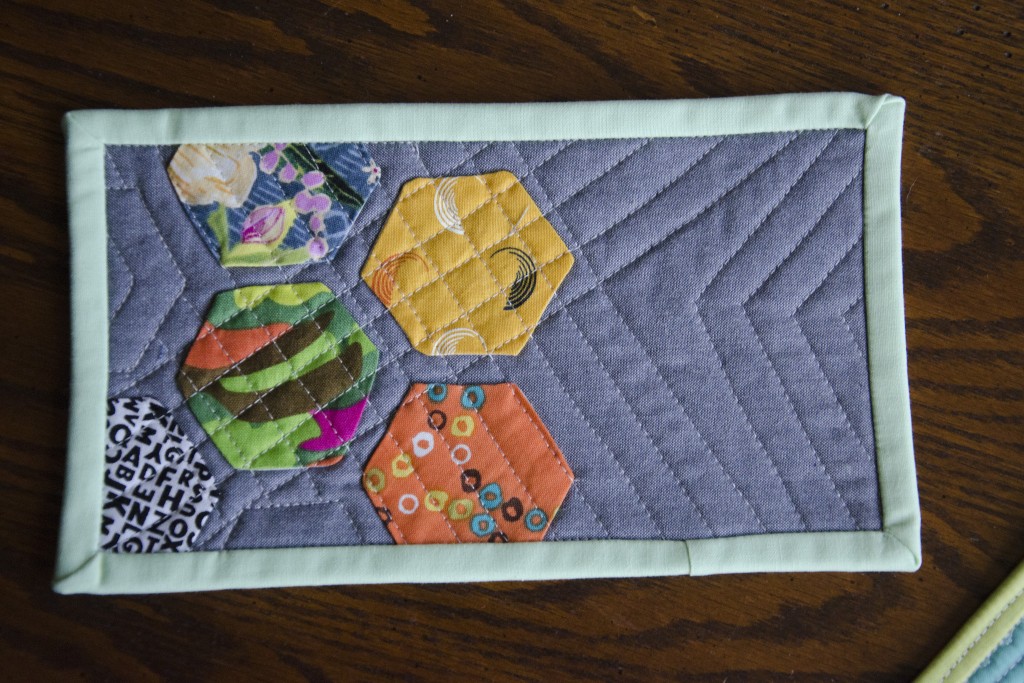 #2: Masochist Shaman
Last winter, I used a bunch of 1/2″ off-cuts of Shaman by Parson Gray as leaders and enders and ended up with a strip of fabric. I'm not sure what possessed me to do something that fiddly, and had no plans for the finished piece. I cut into that, pieced it into some gray, and ended up with an interesting mug rug. I still have a few more cut strips from it, so there may be a matching one in the future. It didn't take long to matchstick quilt something this small. I bound it with mostly matching leftovers from another project.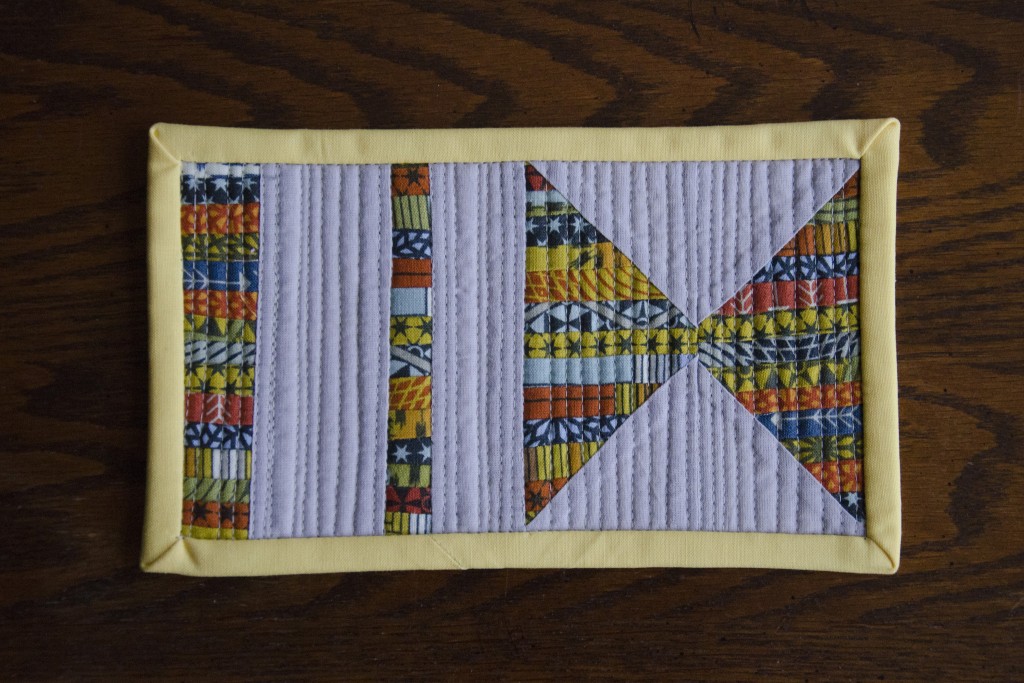 #3: The running out of time
I needed one more to meet my pledge and was lacking inspiration. I challenged myself to just pick some scraps within 2 minutes and start sewing. So, I grabbed three more of the Windham charms, leafed through a stack of orphaned full-sized ones for one that matched, and happened upon a scrap of solid that was the perfect compliment. It worked out surprisingly well. Quilting it was another matter, so again, I just started sewing and it worked out okay. I had a 2.5″ strip of green that made a great frame as binding.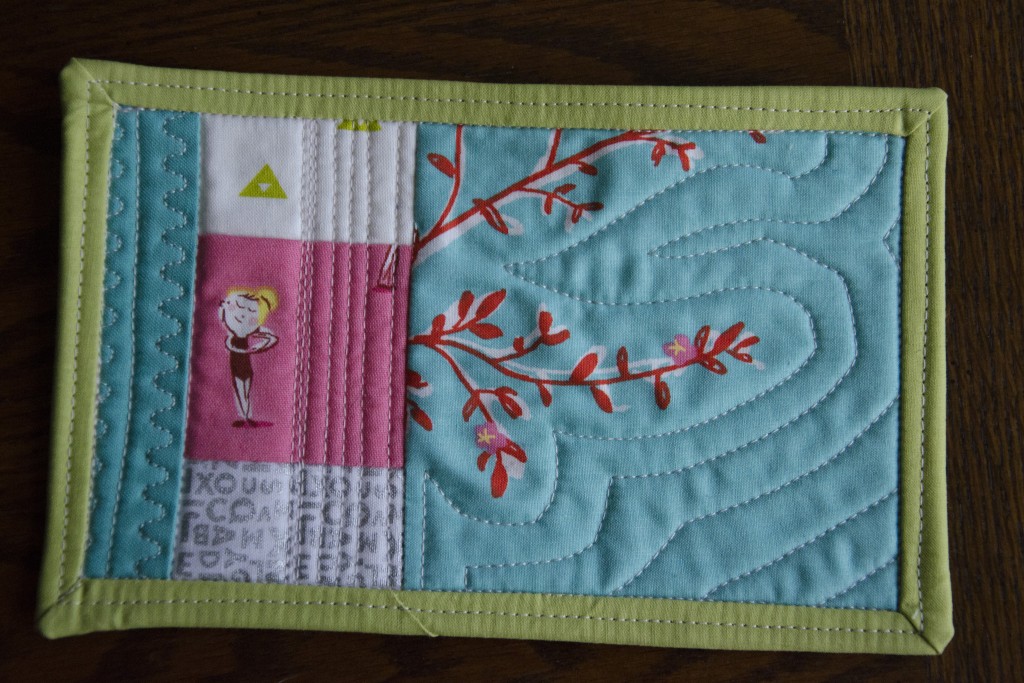 For some reason, while machine binding the other two went very well, this one missed three of the corners. So, time being limited, I decided to topstitch all the way around in the binding to secure the corners on the back. Shh—that's what we call a design decision, not an accident. 😉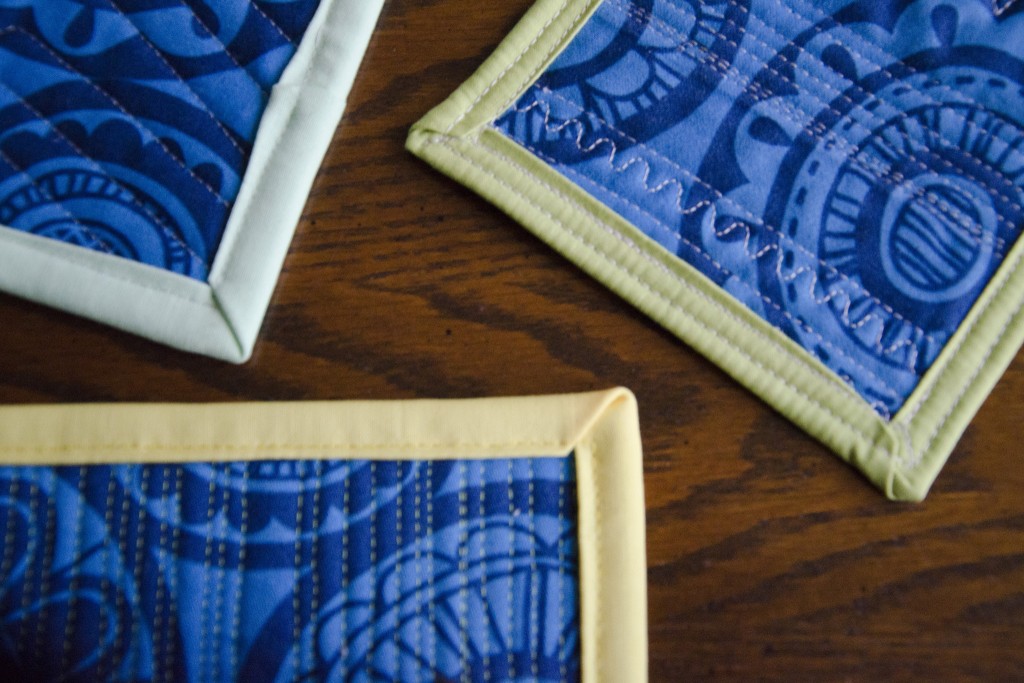 So, those were my mug rugs. I didn't actually complete anything at the retreat, but I made a dent in a couple of projects, so I should be posting about those soon. First, I have to go back to real life, which includes another retreat (or leadership summit, if you prefer) this week and a extra few vacation days where Carl will join me down in Austin, TX. Life never stops!