Sometimes taking a break from something makes it all the more sweet when you finally return to it. That was the case with me and Tiramisu. Last spring, I fully intended on making a Tira for summer wear, but fell out of love with the idea after fitting the bodice. One thing lead to another, and I didn't pick it back up again until now.
When my company subtitled the holiday party theme "wear white," I decided it was the perfect opportunity to pick up where I left off and whip together a wearable muslin (since white doesn't stay that way for long when I wear it). Because I had two attempts at fitting the bodice under my belt from the spring, it went together quickly, and fits pretty well. The only additional modification I made was shortening the midriff section (perhaps too much) because I didn't like where it hit on my body in the previous iteration.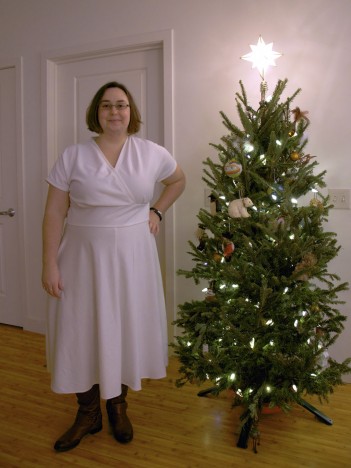 It's not perfect; the neckline needs attention since rather than doing an FBA, I just cut a larger front size which made the shoulders too wide and causes build-up around my neck. It's not something that I will fix on this dress since it doesn't bother me all that much, but when I find time to play with the pattern again, I will go the FBA route to see if that improves things. That said, there's not much gaping!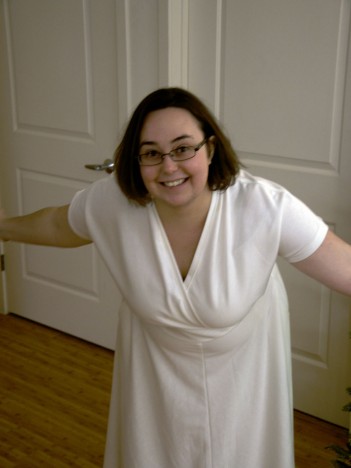 I did a rolled hem on it which really doesn't work so well in this heavier knit. I want to shorten it anyway, so I'll cut that off and re-hem soon. Then, it has a date with a dye bath because the white just isn't doing it for me. The stain-magnet properties aside, this is the kind of dress I don't want to wear a slip with, but unfortunately have to in white. Considering how obvious the skirt seam is at center front, the pockets are almost invisible until I stick my hands in them! I loaded them down with wallet, keys, and cell phone, and it all just hid in the folds of the skirt.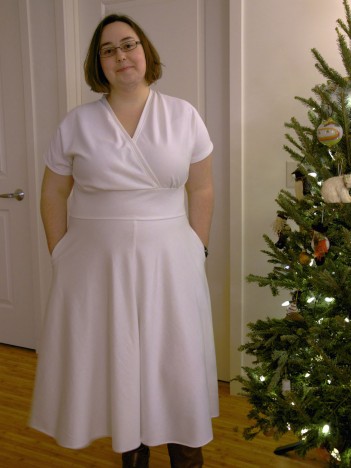 So, despite the small fit issues and color, I really am in love with this dress. Now to choose a color to dye it! (Once I stop twirling…)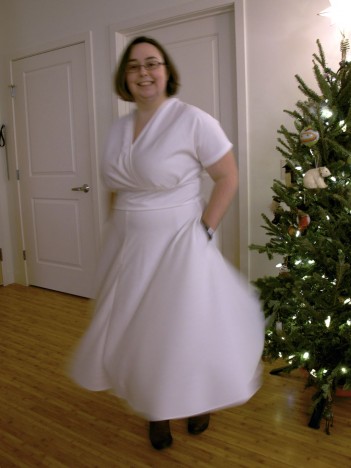 The fabric is a poly/rayon Ponte Roma knit from JoAnn Fabric (why yes, I bought the fabric four days before the party). It has a wonderful weight, and was very nice to sew. It's also pretty warm; this isn't a summer dress. I wore it to the party with Astorias and knee-high socks (8°F that night), then around town today with the pictured knee-high boots (26°F out), and was surprisingly no more chilled than I would have been in jeans.
The pattern is Tiramisu by Cake Patterns, an indie pattern company out of Australia. I love what Steph is doing with making patterns that are sized to real bodies, easily modifiable, and infinitely customizable. You can buy this and her other patterns from her Etsy shop, and her site, SewingCake.com is packed with advice and tutorials. It's one of the few patterns cheap-skate me has purchased at full price and not been disappointed with—even when I was annoyed by fitting earlier this year (which was all me! She gave me very helpful advice, and the instructions are very clear). Once I get tired of Tiramisu, I may have to move on to Red Velvet!