I hope you're all having wonderful holidays. I was hoping to get 100% caught up on blogging my 2017 finishes… we'll see. So far, I've done a lot of nothing productive on my days off work.
This is another quilt that I finished months ago—September to be precise. I finished everything but the binding at my guild's fall retreat with the deadline of a baby shower looming the following weekend. Life had other plans, and we had to fly back to MO that weekend due to the funeral of my step-mother. I finished the binding a couple weeks later and still gifted it well before my friend's baby girl came into the world. My friend seemed a little unwilling to share the quilt with her baby though (at least, when I gifted the quilt)—a true compliment!
---
I really love it when I stumble upon my motivation trifecta: a spark of design inspiration, a stack of fabric that calls to me, and a (somewhat loose, but looming) deadline. That happened here, and sparked off the creation of one of my favorite finishes yet.
The design inspiration came from a rug I found online. Something about the triangle designs and arrangement really caught my eye. The fabric inspiration came from a stack of fat quarters of the full range of colors in Cloud9's Cirrus Solids collection. I think I've talked about their solids before, but I love, love, love them. They are yarn dyed (but with the same color weft and warp), and have much more depth than your typical solid. The rainbow of colors kept drawing my eye as it sat on my shelf, and seemed perfect for this project.
Finally, the reason to make the quilt: the upcoming birth of a good friend's first baby, gender unknown. This friend is a constant source of inspiration to me in our quest to get more women involved in tech, and is artistic herself, so I was happy to have everything click in place to come up with a design and finished quilt that I'm proud of and that I think she'll really dig (and hopefully her small new human will too).
At first, I had triangles that were drawn a little more free-form, with varying sizes of stripes, and planned to paper piece them. I was inspired by a trunk show that Amy Friend gave my guild, along with her book Improv Paper Piecing: A Modern Approach to Quilt Design. But, paper piecing—especially at the scale of these triangles—just doesn't seem to click for me, so I fell back on basic piecing and simplified my triangles into pieces that were straight-forward to calculate (or, in the case of the angles, to put a strip of tape on a ruler for consistency).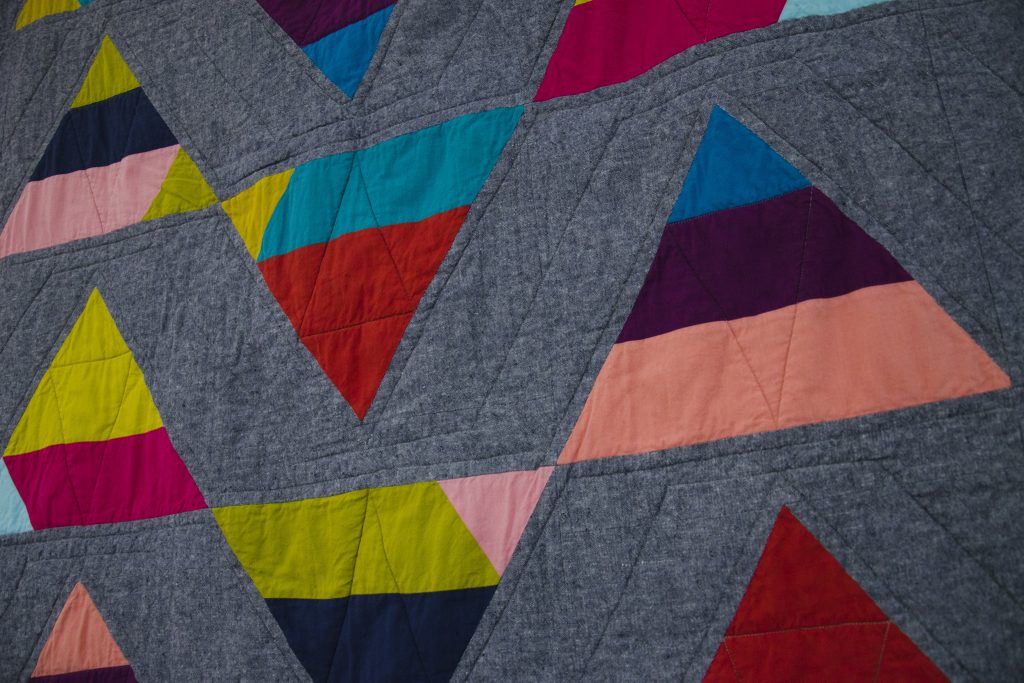 I paired the Cloud9 solids with about two yards of Essex Yarn Dyed (Indigo, if I remember correctly). For her registry, my friend focused on greens and grays, so paired with the rainbow of solids, this read as a good neutral gray. On the back is a solid swath of green Minky that has a tile texture. I used Quilter's Dream low-loft cotton batting, and bound it in a rainbow of scraps from the front, plus a little bit of a black and white print to get enough length.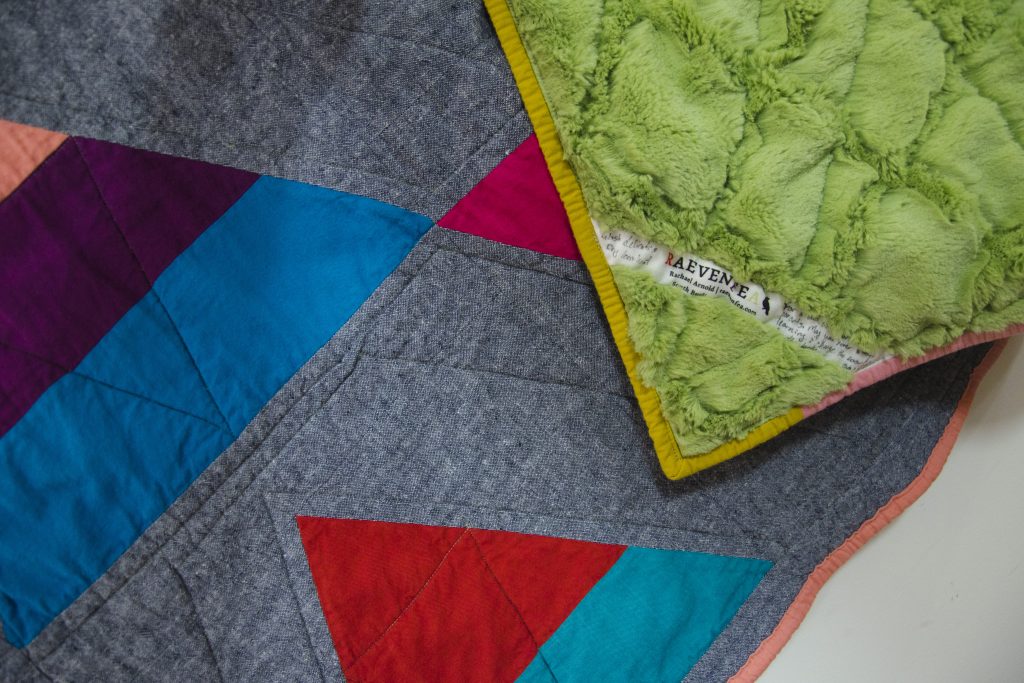 I ended up with a spare triangle that I miscut, which inspired me to whip up a gift bag to go along with the quilt (or, as something for mom to carry around?). The lining is pieced of strips of a few of the colored solids, and the straps are also scrappy, making use of the fabric I had left of the fat quarters. I didn't work from a pattern from the bag, just memory of making similar ones—it finished at around 14x16x2″, and I used Pellon 101 to interface the outer fabric.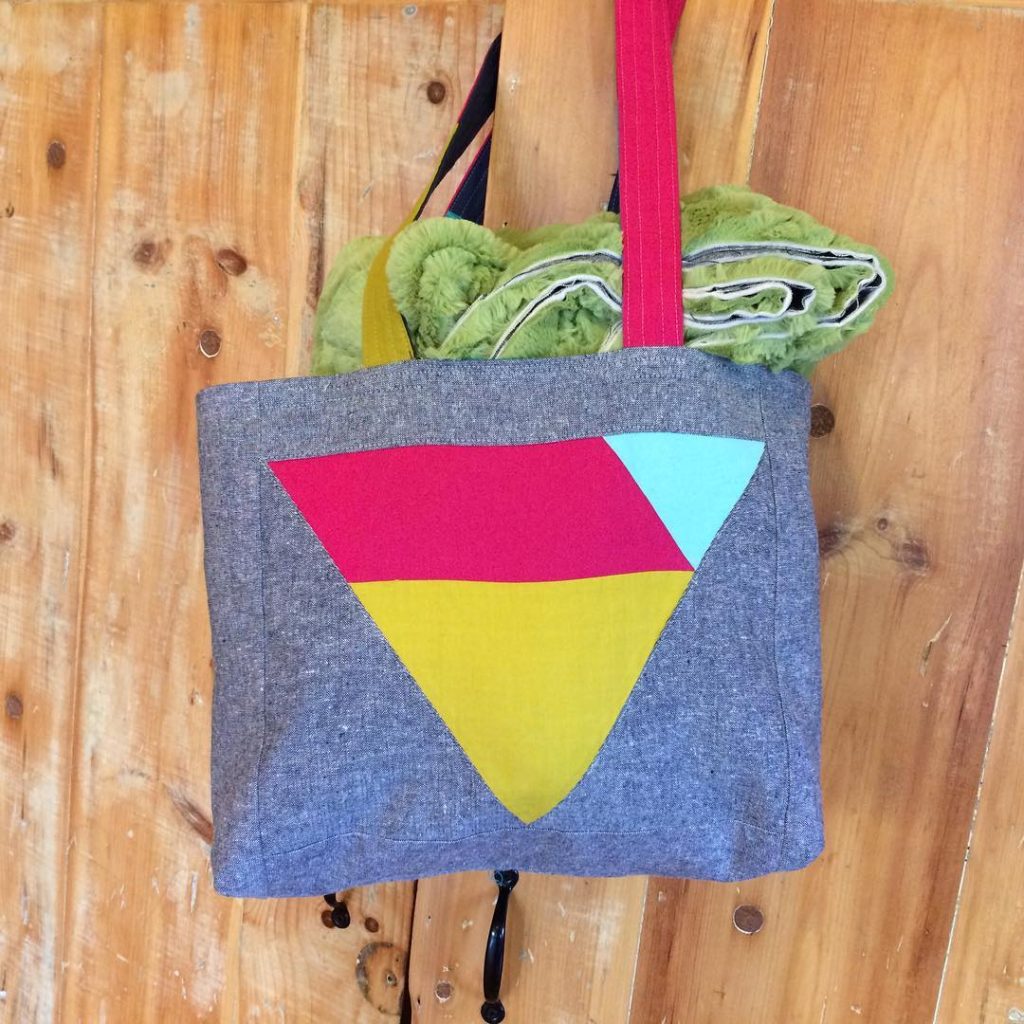 From a technical standpoint, this isn't my best quilt—some points are missing due to in-progress design decisions and bad math, and the binding just didn't want to go on all that well, in part because the Minky had different pile lengths. But, it still ranks high on my list of favorite designs.