This past weekend, we went on a rather last-minute spontaneous trip to Boston to celebrate five years together (and to embrace our love of traveling, which we haven't been doing quite so often lately). It was a lovely break from the usual, with great food, wonderful tours, and a bit of biking around the city (the idea of having rentable bikes stationed throughout the city that you can just grab and return at any location may be the best thing since sliced bread).
Sometimes I think I should have studied history in college instead of computer science. I mean, I totally geek out about things like this headstone, with its pre-standardized spellings, type ligatures, Roman capitals and half years (a period of time where both the Julian and Gregorian calendars were used).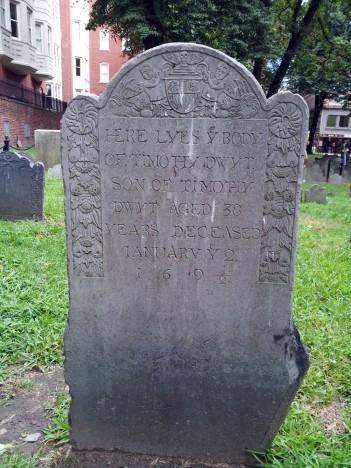 And, though I don't have a photo of it, our guide's historical costume was top-notch; the hand-stitching was beautiful and the linen looked sumptuous, yet well-worn (we took a Freedom Trail guided tour).
On the way home on Sunday, we went to Old Sturbridge Village. It was kismet—it happened to be Textile Weekend with a focus on early New England quilting. They had a lovely mix of original quilts and faithful reproductions on display throughout the village, and a small show of quilts by their members. We stopped into the member quilt show, and I was a bit disheartened when the woman soliciting votes for their viewer's choice picks mentioned that some visitors had adamantly voiced that they were only voting for hand-quilted entries, or only machine-quilted entries, etc. Can't we all just get along? All of the entries had admirable qualities.
This was my favorite quilt in the village itself. It's just such quintessential early 19th century patchwork: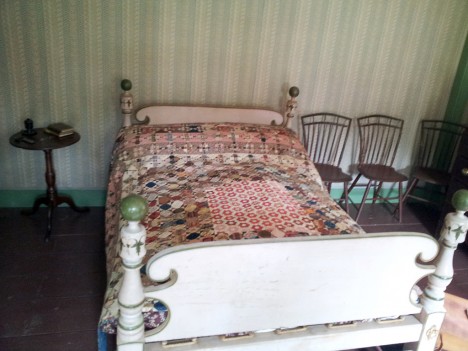 It was wonderful to hear about early quilting without being fed one single mostly mythological tidbit passed off as absolute fact (like humility blocks, making thirteen quilts before she wed, etc).
And, since I can't go on vacation these days with buying some sort of fabric, I came home with a pair of reproduction FQs from the Village (haven't a clue how I'll use them, but these particular two really caught my eye), and some yardage of a print from IKEA that I love. It will likely be a quilt back. I joked that I only agreed to go to Boston because there's a nearby IKEA. There may be a bit more truth to that statement than I want to admit. 😉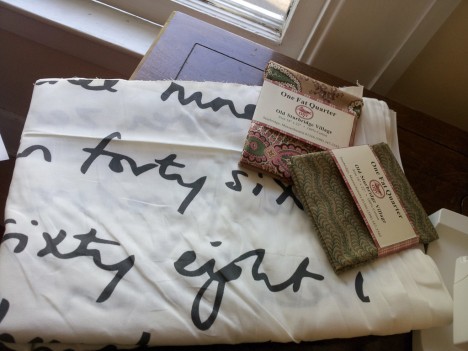 What historical places do you love?