I'm a little off schedule this week (or, last, technically speaking). We had plans Friday night, which is when I've been working on these, and then Saturday was a race day for Carl, so we traveled and were otherwise busy. But Sunday was a sew-together with the Utica Modern Quilt Guild, so I packed up my things and drove over. I was woefully over-packed. Going in, I had hoped to finish a few blocks for FWQAL and get work done on other projects, but only had time for 2.4 blocks.

#21 — Contrary Wife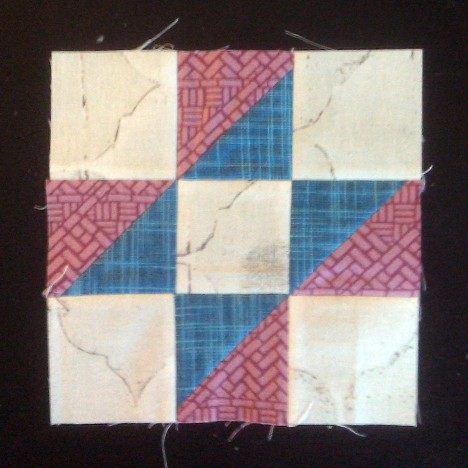 On our travels, I was able to pick up a few more FQs to add to my mix of fabrics for this: all Central Park by Kate Spain. So, you'll see those popping up.
Simplify the block
Each square in the block should finish at 2″, so 2.5″ squares and 2 7⁄8″ HSTs will do the trick. You can strip cut the five squares of the light and two 2 7⁄8″ squares of each HST fabric.
#71 — Puss in the Corner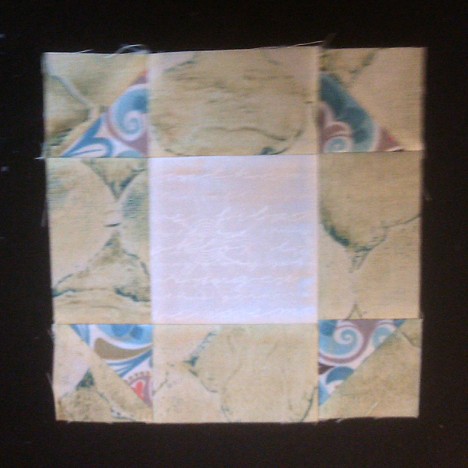 Also making an appearance in this and future blocks are a few of the Sunkissed prints from a charm pack I have.
Simplify the block
This block has 1.5″ finished squares, so 2 3⁄8″ HSTs along with a 3.5″ square and 2″ × 3.5″ rectangles that can be rotary cut in strips as desired. You need two 2 3⁄8″ squares of each HST fabric.
And… progress on #11 — Broken Dishes
Piecing the 16 HSTs is simple enough, but I ran out of time at the sew-together and had other plans for the evening, so it'll be a few days before I piece the rest of the block together.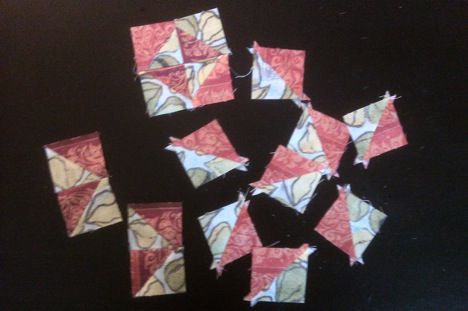 What is this all about?
A group of quilters are working their way through The Farmer's Wife Sampler Quilt by Laurie Aaron Hird, trying to complete two blocks a week and posting them all to the group Flickr pool.
You can see all of my progress on my Farmer's Wife Quilt page.